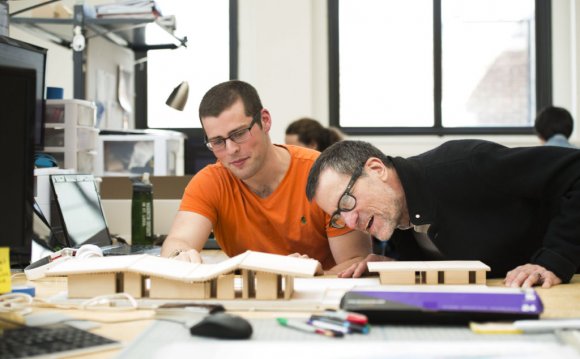 An architect is responsible for planning and designing houses, buildings, and other structures. Entry level architect positions will require a bachelor's degree in architecture as well as passing a licensing examination. The following article details the educational requirements and job outlook for a career as an architect.
Essential Information
An architect is a licensed professional whose job involves planning and designing buildings, bridges and other structures. Architects also work with other professionals, such as landscape architects, engineers, urban planners, and interior designers when designing a structure.
Becoming an licensed architect requires extensive education, training, and a professional examination component. There are currently 154 degree programs in the United States accredited by the National Architectural Accrediting Board (www.naab.org).
Required Education
B.S. in Architecture & Master of Architecture
Bachelor of Architecture

Other Requirements
Supervised Internship & Licensure Exam
Job Outlook
7% growth from 2014-2024 (Average)*
Median Salary (2015)
$76, 100*
Source: *U.S. Bureau of Labor Statistics
Bachelor of Science in Architecture
A Bachelor of Science in Architecture is a 4-year, preprofessional degree. Although it includes classes like physics, architectural design, construction materials and computer-aided drafting, it doesn't qualify graduates to become licensed architects. Graduates who want to work as architects must enroll in a Master of Architecture program.
Bachelor of Architecture
A 5-year Bachelor of Architecture, or B.Arch., is a professional degree program. Students take classes in design, building materials, architectural history and architectural theory. Students also build models and complete design projects. They may study abroad in order to explore international design styles. Although graduates only need a B.Arch. to be eligible for licensure, they need to complete several years of supervised training before actually becoming licensed.
Master of Architecture
Graduates of B.S. in Architecture programs who want to work as architects must complete a Master of Architecture (M.Arch.). This professional program takes two years to complete and includes significant applied practice and research.
Professional Training
Graduates of professional architecture programs must train under a licensed architect and earn a total of 700 internship units before receiving their license. Each internship unit is equal to eight hours of training, and it typically takes three years of full-time work to complete the 700 units.
Interns typically prepare and coordinate documents with consultants, contractors and team members. They may work on design teams and create architectural models. These training requirements are set forth by the Intern Development Program, which is a part of the National Council of Architectural Registration Boards (NCARB) and the American Institute of Architects. Arizona is the only state that allows unlicensed architects to practice without being under the direct supervision of a licensed architect.
Licensing
The Architect Registration Exam (ARE) is the final step to becoming a licensed architect. Only graduates of NAAB-accredited schools are allowed to take the ARE. The ARE consists of nine divisions, each of which must be taken separately. The entire exam requires about 40 hours to complete. Candidates are allowed up to three years to pass all sections of the exam. Once a passing score has been earned, an application must be submitted to the state registration board to receive a license. Architects are required to have a license.
Architects are responsible for designing the buildings and structures that we use in our everyday lives. While a bachelor's degree in architecture is available, you'll need to complete 5-year master's program to qualify for licensing an architect. Completing an internship and passing a national competency exam are the final steps in the process of becoming an architect.
Source: study.com
Share this Post