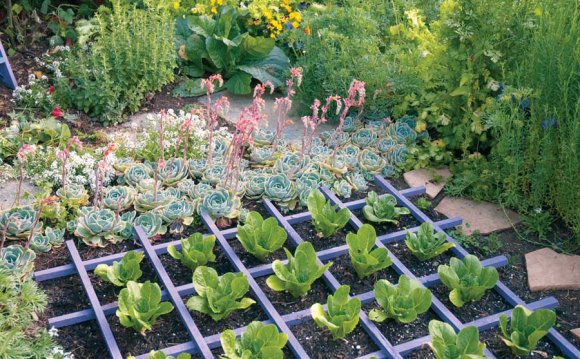 The edible landscape concept strikes a deep chord with me; I've been exploring its many options and variations for more than 40 years. Americans cover millions of acres of valuable agricultural land around their homes with lawn, marigold and azalea beds, wisteria, and an occasional privet or maple. Yet as a landscape designer, I know most edible plants are beautiful and that homeowners could grow a meaningful amount of food in their yards — a much more noble use of the soil.
Instead of the typical landscape, we could minimize lawn areas and put in decorative borders of herbs, rainbow chard, and striking paprika peppers. Instead of the fleeting color of spring azaleas, we could grow blueberries that are decorative year-round — or pear and plum trees that put on a spring show of flowers, have decorative fruits, and yellow fall foliage. These plants aren't just pretty, they provide scrumptious fruit and can save you money.
The Future Is Now
I'm convinced that, in addition to being a viable design option, an edible landscape (if maintained using organic methods) is the most compelling landscape concept for the future. Edible landscapes offer incredible benefits:
Energy Savings. Food from your yard requires no shipping, little refrigeration, and less energy to plow, plant, spray, and harvest the produce.
Food Safety. You know which chemicals (if any) you use, and huge batches of vegetables won't be combined and therefore can't contaminate each other.
Water Savings. Tests show that most home gardeners use less than half of the water agricultural production needs to produce a crop. Drip irrigation saves even more. And unlike in agriculture, fields aren't flooded and huge vats of water aren't needed to cool down the harvest.
Money Savings. You can grow an unbelievable amount of food in a small, beautiful space. See Grow $700 of Food in 100 Square Feet and my website for exact figures for some popular crops.
Better Nutrition. Fully ripe, just-picked, homegrown fruits and vegetables, if eaten soon after picking, have more vitamins than supermarket produce that was usually picked under-ripe and is days or weeks old when you eat it.
Designing Your Edible Landscape
Any landscape design begins with choosing the location of the paths, patios, fences, hedges, arbors, and garden beds — establishing the "bones" of your garden. This is critically important in an edible garden because the beds are more apt to have plants with a wide array of textures, sizes, and shapes, such as frilly carrot leaves, mounding peppers, and climbing beans. Edible garden beds may be filled with young seedlings or even be empty at times. That's when paths, arbors, fences, hedges and even a birdbath are vital for keeping things attractive.
Next, plan your style by asking some questions: Do you want a formal or informal garden? Do you prefer a theme — maybe early Colonial or Spanish? How about whimsical areas with a scarecrow or whirligigs? Have you always dreamed of a bright yellow gate welcoming folks into your garden?
After you've determined the setup of the landscape, it's time to choose the plants. Herein lies the true subtlety of the landscaper's art. First, make a list of edibles you like most and that grow well in your climate, noting their cultural needs. Be aware of their size, shape, and the color of their foliage and flowers or fruit they produce (if any). Do you crave lots of hot reds and oranges, or do you prefer a cooler scene with lavenders, grays, and shades of blue? If fragrance is important, consider the scent of apple and plum blossoms, or heady basils and lavenders.
Source: www.motherearthnews.com
Share this Post