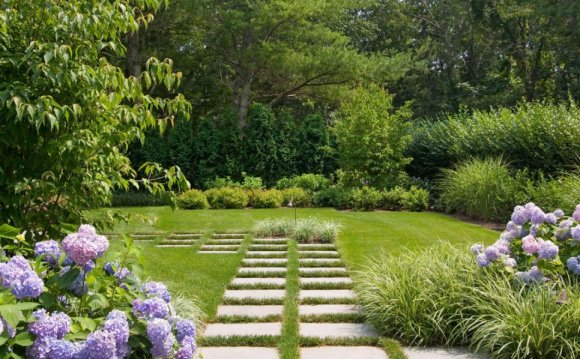 Buying a cottage on Cape Cod was the homeowners' dream but the weedy, wooded, spider- and mosquito-filled lot had become a nightmare.
After: Dream Realized
Chris Lambton and crew push back the wilderness and clear the weeds and fallen, rotting trees then extend the deck to create designated dining and food prep areas. Insect-repellant flowers and herbs, like lavender and marigolds, keep pests at bay while a slate pathway and patio lead off to a small pond and a shady hanging daybed.
Before: Barren Lot
With just a few weedy patches surrounded by overgrown bushes this backyard isn't the relaxing retreat the homeowners envisioned.
After: Private Oasis
New turf, borders filled with low-maintenance plants and an Old World-inspired fountain give this backyard a park-like feel. Landscape designer Sara Bendrick added a long, open pergola leading to a shady garden oasis that features cushy bench seating and an outdoor fireplace that can also function as a grill.
Before: Safety Hazard
A too-small deck that's literally falling apart and neglected, overgrown lot filled with leftover building materials make this unusable backyard the family's least favorite area of the home.
After: Picture Perfect
A sprawling two-level cedar deck and brick patio anchored by an outdoor fireplace and pergola provide ample space for alfresco dining and relaxing with friends or family. To soften all the hardscape, Chris Lambton and crew pushed back the wooded area to make room for a sinuous bed filled with perennials for year-round appeal and blooming annuals for color.
Before: Partially Finished Rooftop
When you call an urban high-rise home, your "backyard" is hundreds of feet above the ground. The views from this Chicago rooftop are spectacular but the full-sun exposure and lack of privacy mean this awesome outdoor space is seldom used by the homeowners.
After: Party Perfect, With a View
Interior designer Alison Victoria gives the outdoor space an indoor feel with exotic ipe flooring and an outdoor kitchen complete with a functional sink, mini fridge and granite countertop. Planters filled with mature trees lend privacy while a pergola with retractable fabric awnings provides shade.
Before: Basic Backyard
The homeowners love to entertain outdoors so they added a brick paver patio, small grill and dining table to their backyard — but the only way to access the outdoor area is down a flight of stairs and through the basement making grilling out a hassle.
After: Multiple Outdoor Living Areas
Anthony Carrino and John Colaneri, the Cousins on Call dramatically increase the home's outdoor living area with a 2-story deck featuring a full outdoor kitchen upstairs with a cozy Moroccan-inspired lounge beneath. A massive bluestone patio, hanging fire pit, new sod and dining table complete the backyard's transformation.
Before: For the Birds
The owners of this Los Angeles backyard are folk musicians who are trying their hand at raising chickens. Although the birds are thriving, the lawn is not — the chickens have destroyed the grass turning the yard into a muddy mess.
After: Folksy Nightclub
To better house the chickens, landscape designer Sara Bendrick built a custom multi-level coop then reimagined the backyard as an outdoor club to suit the homeowners' passion for performing live music. She used reclaimed lumber to build a barn-shaped stage at one end and a massive outdoor bar at the other. A dead tree that previously divided the property was cut down, then sliced into 3 and 4 inches discs that were used instead of flagstone pavers to create a wide patio and pathways.
Before: Neglected and Unused
A tumbled-down cinderblock retaining wall, rusty metal drum, pile of yard trash and a lone tiki torch are the sad view from the homeowner's deck.
After: Fireside Lounge
Chris Lambton and crew clear the brush, grade the yard and install a wide brick patio, anchored by a custom-built brick and slate fireplace. A pergola, constructed in a sunburst pattern around the fireplace, provides dappled shade and a bit more privacy.
Before: Too Small for Socializing
This backyard is the social hub of the block — where neighbors young and old gather to grill and hang out. Mismatched chairs, barstools and benches are everywhere but there still isn't enough seating to accomodate the big parties that gather here on warm nights.
After: Ready for a Crowd
To make food prep easier, cousins Anthony Carrino and John Colaneri added a raised deck area off the home's kitchen for housing the grill with steps leading down to the deck's main area below. Bonus: The raised deck conceals a swing-arm-mounted table that pivots out to provide extra seating when needed. Built-in cedar benches on all sides accomodate even more guests while custom planter boxes are a great place for the family to grow herbs or veggies.
Before: Weedy Hillside
With both a pre-teen daughter and toddler, the homeowners need an area where they can relax while watching the kids play.
After: Outdoor Playroom
The Going Yard crew turn the previously unused corner into a family-friendly hangout where mom and dad can kick back in the hammock while the kids play hopskotch or draw on the chalkboard nearby.
Before: Overgrown and Unused
These young homeowners love the outdoors and have a huge backyard but are at a loss as to how to care for it. Woodpiles, that have attracted snakes, litter the property and the small vegetable garden they attempted was soon eaten by rabbits.
After: Beachy-Keen Backyard
Chris Lambton and crew clear the property then create designated zones for dining, gardening, gathering around a sandy firepit and even an enclosed outdoor shower. To provide shade, a vintage ship's sail covers the door to the home while a purple leaf plum tree, chosen for its vibrant leaves and short stature, is planted within the deck. Beachy Elijah blue fescue and other ornamental grasses combine with sun-loving celosia, butterfly bushes and sunflowers to fill the yard with color.
Before: Untended and Embarassing
This long-neglected backyard is an overgrown tangle of 6-foot-tall weeds with a dilapidated carport filled with tarp-covered piles of plastic storage bins. The homeowners are so embarassed by their abandoned-looking backyard that they never invite friends or family over.
Source: www.hgtv.com
Share this Post