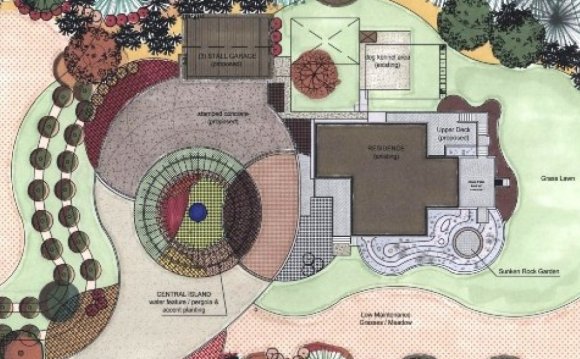 Not every landscaping project needs a designer. In the same way that you could redecorate the inside of your house without an interior designer, you can rework your landscape without a landscape designer. Here are a few things that might make you want a designer:
You find yourself flipping through magazines looking at pictures of amazing gardens, and you want something that special
Your dream landscape is complicated- it involves a swimming pool, fireplace, or multiple patios. You want help figuring out how it all comes together.
Your home is in a Homeowner's Association that requires a landscape plan
You would like your landscape to be very personalized and unique
You have a specific style of architecture and you want to make sure the outdoor spaces match the house
Do you build the projects that you design?
No, Sage does not do any construction in-house, but we would be happy to give you referrals for contractors.
We think it is in your best interest to work with two separate design and construction companies because it means that you know the designer is working with your best interests in mind and is not motivated by how much you chose to spend on the construction. That way you can trust that Sage is suggesting a material because it is the best one for the job, not because it is the most expensive.
How much does a design cost?
My community has a Homeowner's Association. Can you help us get our plans approved?
Yes, absolutely!
I think my project will require permitting. Can you help with that?
Yes, I can. For most of my projects, I get the plans ready for submitting to the City or County, and the contractor pulls the permit. I can also help if you need a referral for an engineer, architect, arborist, or surveyor.
Do you have favorite plants, materials, contractors, etc.?
What is the difference between a landscape designer and a landscape architect? How do I know which one I need?
Both landscape designers and Landscape Architects can design gardens and outdoor living spaces. In California, the key difference is that Landscape Architects carry a state license that allows them to "wet stamp" a plan set when submitting that set for permits. To get this license, a Landscape Architect must pass a test offered by the California State License Board. Wet stamps are often required on commercial and civic projects, but rarely on residential projects.
The plans that Landscape Architects offer are construction documents, which are exceptionally detailed design documents typically consisting of a multi-page plan set including: a demolition plan, hardscape plan, irrigation plan, drainage plan, lighting plan, design details, specifications, and a planting plan. Because these plans are so comprehensive, they may be prohibitively expensive for most homeowners.
The plans that landscape designers offer are called concept plans. A good concept plan will include a layout of all elements in the scope of work and will make all of the aesthetic decisions on a project. Landscape designers are often much more familiar with local availability of materials, appropriate plants for the area, and the cost of common building materials. They are used to working with homeowners, and are able to cater to the specific needs of their clients. Because my passion is residential work and I enjoy working closely with my clients, I have chosen to be a landscape designer.
Where did the name Sage Outdoor Designs come from?
The Sage part of the name came about because I was looking for a play-on-words with my last name, Wiseman, and a plant related play on words was too fun to pass up.
But, it is the outdoor designs part of the name that I like best. I was looking for a name that covers everything I do, and garden designer felt much too restrictive, since I am comfortable designing anything outside the doors of your house, including non-structural changes to the outside of the house itself. I realized that I thought of myself as an outdoor designer, or better still Designer:outdoor. It was actually a past client who strung the three words together for me, and I can't thank her enough!
Source: sageoutdoordesigns.com
Share this Post