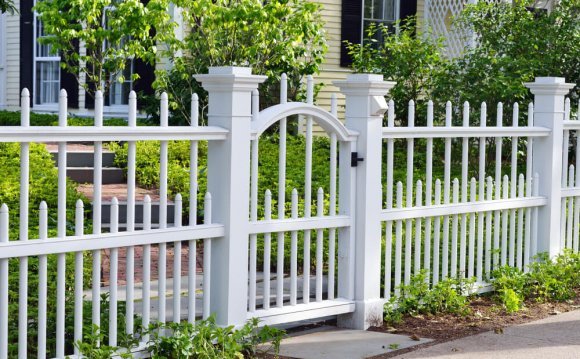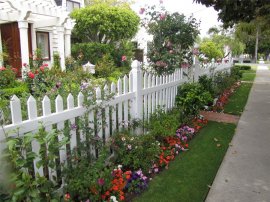 Wrought Iron Fencing
Another popular fencing style for front yards is wrought iron. Wrought iron's decorative finials and transparent nature make it a good option for front yards. Transparency is important because you don't want to make your front yard appear closed off and unwelcoming. If your home's architecture is formal than a wrought iron fence is the perfect complement. Nowadays, wrought iron fences are primarily made of aluminum and powder-coated various colors, with black being the choice of most homeowners.
Front Yard Privacy Fence
If your local codes allow, a tall privacy fence can be built in your front yard. If you don't have much space in back, this can be a good way to reclaim the front yard and use it for outdoor living. This fence is set back a few feet from the sidewalk to allow for planting space. The plants in front of the fence soften its appearance and create curb appeal.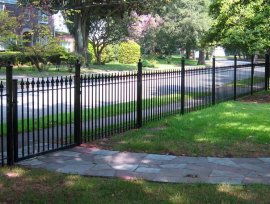 An Asian-inspired gate and pergola, set back even further into the yard, mark the entrance to this property. Furthermore, stainless steel address numbers are displayed on the fence for a bit of stylish functionality.
Driveway Gates
If you plan to install fencing around your front yard you will likely need a driveway gate. Driveway gates provide security for your home, while allowing easy access for you and your guests. Plus, a well-designed driveway gate can serve as a focal point of your front yard. This particular driveway gate is a custom creation that combines wrought iron and wood. This gate style would go particularly well with a Mediterranean style home.
Fencing Corner Lots
Corner lots can be tricky when it comes to fencing because more of your property perimeter is visible to the neighborhood. In a way, it is almost like you have two front yards. In this case, the solution was to construct a wooden fence across the corner portion of this yard. This creates a small public garden and a large private garden. A scalloped design as well as lattice panels and a pergola for climbing vines make this fence especially attractive from the street.
Fencing a Large Property
If you have a large property in a rural area you may want to fence the entire perimeter, both front and backyard. Since this will likely require many feet of fencing, it is best to pick a simple design that will be cost effective. Here a simple post and rail fence jogs through the front portion of this large property. In this case, black is actually a more subtle color choice than white because it blends nicely with the greenery without disappearing altogether.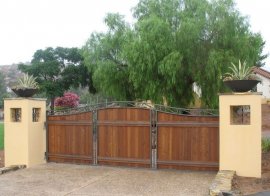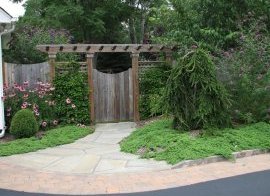 Source: www.landscapingnetwork.com
Share this Post