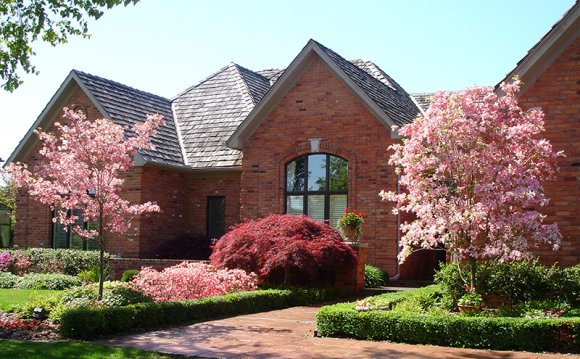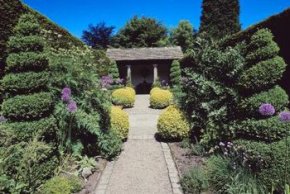 Front yard plants should frame, not compete with, your front door.
If your backyard is where you relax, play or grow vegetables, your front yard is your window on the world and represents your best face to the world. "Curb appeal, " the term real estate professionals use to describe an attractive front yard, applies to a welcoming landscape that always looks its best when viewed from the street. Landscape your front yard to provide year-round curb appeal with easy-to-maintain, distinctive plants.
Shrubs
Shrubs should soften the corners of the house and form hedges to define the yard. Evergreens and front doors flanked with arborvitae may mask foundations, much as Victorian ladies covered their table legs, but voluminous shrubs eventually engulf a house, obscuring the occupants' view of the world. Mix compact evergreen native junipers (Juniperus spp.) or camellias (Camellia sinensis or C. sasanqua) with dramatic deciduous blue hibiscus (Alyogyne huegelii) or late spring-blooming spice bushes (Calycanthus occidentalis). Define a border with shade-tolerant, summer-blooming oakleaf hydrangea (Hydrangea quercifolia) or sun-loving, spring-blooming lilacs (Syringa spp.) Plant several different shrubs in groups of three to add variety to shrub borders.
Borders
Front yards full of flowers may make a yard look cluttered and small, but borders can make it look well-tended. Add well-behaved shrubby perennials such as lavender (Lavendula spp.) in groups to add variety and depth to a border established by shrubs. A border of shrub roses (Rosa spp.), also called landscaping roses, completes the cottage impression of a colonial-style house when planted along a picket fence. Northern California native rose meadowsweet (Spirea splendens var. splendens) is a drought-tolerant spirea that produces rosy flowers over shiny green leaves throughout the summer.
Perennials
Choose perennials that punctuate rather than just fill space. They must "pop" in order to add curb appeal. Whether planted in borders or along the front walk, plants should lead the eye toward the front door. Choose plants such as hostas (Hostas spp.) and daylilies (Hemerocallis spp.) that create an architectural accent with dramatic foliage. Plant bulbs, including daffodil (Narcissus spp.) and iris (Iris spp.) in a few large, odd-numbered clumps rather than spread out so they provide emphasis. Black-eyed Susan (Rudbeckia hirta) and purple coneflower (Echinacea purpurea) also grow in neat clumps and provide long-lasting blooms.
Ground Cover
Lawns take a beating in dry Mediterranean climates - so much so that artificial grass is readily available to homeowners who want a perfect-looking lawn. Others plant grasses such as creeping red fescue (Festuca rubra var. littoralis or F. rubra var. rubra), hard fescue (F. longifolia var. brevipila) or chewings fescue (F. rubra ssp. fallax commutate) - slow-growing, drought-tolerant varieties that are easy to keep looking neat. Low-growing plants such as Roman chamomile (Anthemis nobilis) and creeping thyme (Thymus "Elfin") make non-traditional lawns for front yards with little foot traffic. Native options for ground cover include Point Reyes ceanothius (Ceanothius gloriosus var. gloriosus), Little Sur manzanita (Arctostaphylos edmundsii 'Carmel Sur') or pinemat manzanita (A. nevadensis).
Source: homeguides.sfgate.com
Share this Post