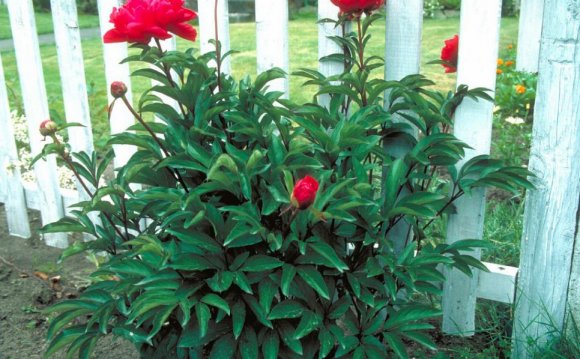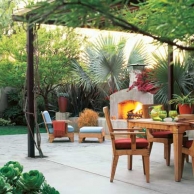 1 ×
Backyard Getaway
Using no-fuss materials and water-thrifty plantings, this landscaping pro gave his small urban lot plenty of visual punch and practical outdoor living space while minimizing upkeep. Coming up: five key ideas he put to work—and you can too.
2 ×
Practice Makes Perfect
One reward of overhauling other people's properties for a living is experience that you can put to use on your own place—eventually. For eight years, Vincent Ocampo worked as the contractor half of a design-build team in Southern California with garden designer Nicole Lopez. He loved how their work blurred the boundaries between indoors and out.
Shown: Westchester, California, homeowner Vincent Ocampo and his daughter, Alexis, get set to enjoy a meal outdoors.
3 ×
Before: Bland & Bare
Finally, a year after he and his wife, Ilianet, bought a house and had a baby, it was his turn. Where there was just a small, sloping lawn in front and more struggling grass in back, he and Lopez imagined an easy-to-maintain landscape alive with color and texture and divvied up into lots of outdoor seating and entertaining areas for friends and a large extended family. Read on for the principles they followed in revamping their landscape.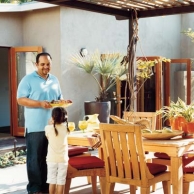 4 ×
1. Plant a front-yard garden
Front lawns demand regular watering, mowing, and weed control. The Ocampos' sloping front-yard garden adds privacy, beauty, and plenty of play space for their young daughter with a virtually maintenance-free garden. A stepped-up slate-tile path winds through the center, flanked by dramatic palms, colorful succulents, and other low-water plants. An airy metal fence establishes the private part of the yard. Gates close off the driveway (which cuts in front of the house to the garage) and a parking pad. Concrete paving tinted a deep purple gives the whole yard a rosy hue. Safely behind the gates, daughter Alexis and her friends ride bikes and play hopscotch on the driveway or do artwork on the small front deck.
5 ×
2. Keep the lawn to a minimum
The Ocampos kept a patch of lawn, but it's so small—about 16 feet square—that it seems more like an area rug than wall-to-wall carpet. It sits to one side in the backyard and is the first thing you come to if you enter from the side yard. They thought they needed it as a play space for their daughter, but it mostly serves as a lush counterpoint to the hardscaping around the fireplace area. Vincent constructed a focal-point pebble fountain against one of the garden walls where it is surrounded by palms and feathery Chilean mesquite trees. Now the sound of splashing water enlivens this quiet corner of the yard.
6 ×
3. Rely on low maintenance hardscape for outdoor living
The Ocampos' garden is so easy to care for partly because it substitutes paving and planters for lawn and traditional perennial beds. But with a lot of hardscape, you need a good design or you could wind up with a yard that looks like an industrial parking lot. Lopez's solution was to create an underlying grid of lines that gives the spaces a sense of order. Changes in elevation help tame the slope in front and delineate the spaces in back.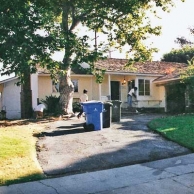 7 ×
3. Rely on hardscape (cont.)
The front walkway leading up from the sidewalk has four steps and takes two 90-degree bends about 6 feet apart, then ends where the concrete driveway cuts across the yard to the garage. But your eye continues because the concrete is scored into 6-foot-wide squares whose edges visually connect the path to the front steps.
In the backyard are three nearly square areas—the lawn, the fireplace patio, and the dining patio—though the yard jogs in and out to match bumpouts in the house. Planting beds of different sizes fill in the odd spaces to make it look more symmetrical overall.
8 ×
Dividing the backyard into three distinct "rooms, " the design gives each a slightly different elevation and paving material underfoot. The poured-concrete floor of the dining area is largest; level with the floor of the house, it connects via a wood deck accessed by two sets of doors. On one side of it sits the outdoor kitchen, which is paved with broken flagstone surrounded by softer-looking decomposed granite. On the other side, a step leads down to the fireplace area, which is paved with the same slate tile as in front, and a small ribbon of decomposed granite outlines the sitting wall and surround. This area steps down to the patch of lawn, the smallest and lowest "room"—fitting for the section most closely rooted to earth. "The step-ups are subtle, " says Lopez, "but they really do make the space seem bigger." The poured concrete and mortared stone just need a quick sweep for cleaning. The decomposed granite might need to be replenished with a couple of new shovelfuls once a year.
9 ×
4. Focus on water-thrifty perennials to provide color and texture
A low-maintenance garden means forgoing annuals and plants that need to be coddled. "I always tell people, 'Don't plant anything that needs to be swapped out, " says Vincent. Because of the region's hot, dry climate and water restrictions, the Ocampos used a lot of native plants and succulents.
10 ×
Low-growers cover the ground around stepping stones and shrubs, and soften the edges of hardscape areas. Says Vincent: "If I knew then what I know now, I'd have saved money by just walking and plucking." Today, passersby often ask to do just that, harvesting easy-to-root sprigs from his street-side succulents to stick in pots and grow at home.
11 ×
5. Add containers as sculptural decorative elements
Containers serve a practical purpose, of course, but they can also double as garden art. The Ocampos invested in three tall chartreuse pots to act as focal points and draw the eye upward in their small yard. Stationed by the barbecue in front of a jasmine-covered privacy wall, one vessel holds a burgundy-leaved bromeliad.
12 ×
5. Add containers (cont.)
Another holds a small palm, and the third is the focal point in a pebble fountain near the lawn. Similarly shaped vessels in earthy terra-cotta hold blue-green succulents and red-veined cannas.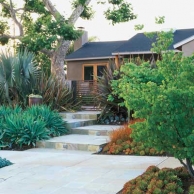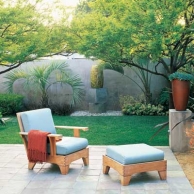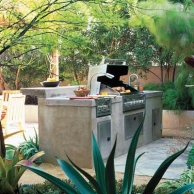 Source: www.thisoldhouse.com
Share this Post