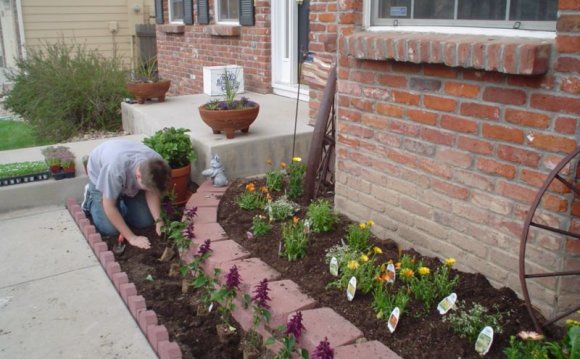 Welcome guests with front yard plantings that complement your home. Include blooming plants to create an eye-catching display right outside your door that makes coming home a treat. Typically, entry gardens include a mix of foundation plantings, walkway beds and driveway borders. Spice up these practical, needful gardens with clever design elements to make your yard the talk of the block.
Foundation plantings anchor your home to the surrounding landscape and ease the transition from structure to lawn. Fill foundation beds with plants featuring different colors and textures, and arrange them in layers to create a sense of depth. Always research and position plants based on mature size so they have adequate room to spread, which saves you endless pruning down the road.
Incorporate curving bed edges to soften hard angles between sidewalks, driveways and your house. Test-drive any proposed curves with your mower before actually forming flower beds. Make sure curves and corners are easy to maneuver.
For guaranteed good looks, follow classic design principles when designing front yard flower beds. For instance, arrange flowering plants by height, with tallest bloomers in the back of beds viewed from one side or in the center of beds viewed from all sides. Don't place too-tall flowers in front of windows to avoid blocking the view. Keep walkways skirted with knee-high or shorter bloomers to ensure sprawling plants don't present an obstacle course.
Avoid a stand-alone driveway edging bed, which draws attention toward your drive and garage. Instead, connect a driveway bed with a foundation bed. This beckons the eye to wander along plantings toward your front door.
Design front yard planting beds to usher eyes toward your front door. Flowers play a strong role in this by providing pops of color that the eye naturally spots and follows. Repeat a hue throughout front yard flower beds and even on porch planters or hanging baskets and you'll subtly direct the eye. Choose that hue based on accent colors on your home, and your plantings will blend artfully with your home's exterior.
If your front yard is sunny for at least six hours a day, tuck edible crops into planting designs. Blueberries, goji berries and even trellised raspberries can serve as a hedge, and beds of asparagus easily blend into foundation plantings with their post-harvest ferny form. Dwarf fruit trees, including apple, cherry, pomegranate or fig, slip neatly into foundation planting areas, blending seasonal beauty with a tasty harvest.
Choose kiwi, pole beans or grape vines to grace an entry trellis and plantings of multi-hued leaf lettuces followed by chard, red mustard or assorted basils to serve color through summer heat. Tuscan and other types of kale introduce strong architectural leaf forms to flower beds that allow blooming plants to sparkle against the leafy backdrop. Disguise hardworking tomato, pepper or eggplants with flounces of colorful marigolds, dwarf daylilies or cheerful blanket flowers.
The biggest must with edible front yard plantings is maintenance. Keep plants staked, harvests gathered and fallen fruit picked up to avoid transforming your beautiful spot into a neighborhood eyesore. Many edible crops need to be pulled after bearing. Design your beds with succession plantings in mind. Replace early-season peas or lettuces with colorful annual bloomers or herbs.
In cold-winter areas where snowfall accumulates, select plantings based on snow removal patterns. Beds along driveways and sidewalks may do best with annuals or perennials that melt away after frost and can handle heaps of snow, as opposed to woody shrubs or roses that might break under the weight of shoveled snow.
Source: www.hgtv.com
Share this Post