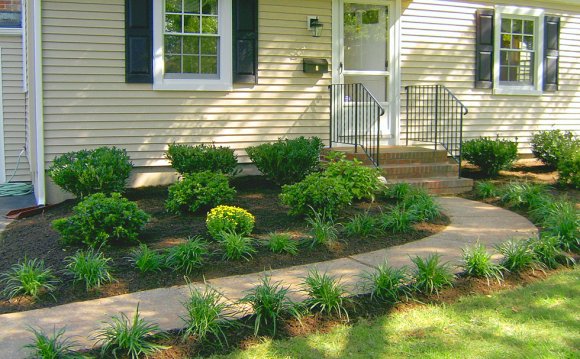 With overgrown landscaping and a disappear-into-the-background white paint color, this California bungalow was generally considered one of the least attractive homes on the block. Narrow, winding stairs and an overgrown trumpet vine and small tree that block the front door add to the home's uncared-for look.
After: Colorful Cottage
To make the home pop, designer John Gidding chooses sunny yellow for the siding and cheery turquoise for the front door. The winding stairs are straightened and widened to draw more attention to the front entry which is shaded by a honeysuckle-coverered arbor. The homeowners aren't big fans of mowing the grass so John eliminated the lawn in favor of a wide stone path flanked by low-maintenance plants.
Before: Hidden Gem
Overgrown vegetation, ramshackle wood siding and a dangerous looking front porch combine to give this rambling Texas ranch a haunted house appearance.
After: Ranch-Style Standout
Fixer Upper's Chip and Joanna Gaines worked their magic giving the formerly rundown ranch a massive curb appeal boost. Thanks to a bit of selective trimming, the front yard's ancient tree is now an asset instead of an eyesore while the existing cedar siding was brought back to life with a good cleaning and sanding to reveal fresh wood before resealing. A low stacked stone wall and new landscaping soften up the façade.
Before: Faded Belle
The homeowners are two of the French Quarter's most colorful characters but their home's vanilla facade is definitely lacking. A tumble of weeds fill the beds that line the porch and the concrete set-back, or small area that separates the home from the sidewalk, is broken and unlevel.
After: Big Style in the Big Easy
Jason Cameron comes to this belle's rescue with kicky paint colors, a bluestone patio to replace the crumbling concrete and a cast-stone fountain. The weedy beds are given a tropical makeover with dwarf pygmy date palms and striped stromanthe that tie in with the home's new color palette.
Before: An Architectural Mismatch
Dubbed "the cargo ship house" by 's Chip Gaines, this long, gray and bland exterior was certainly short on charm. The ranch-style brick portion was originally built in 1958 with the wood-clad second story as a later addition.
After: An Artful Addition
Wow, what a transformation! Chip and Joanna dramatically took this home from sad to stately with a porch bump-out that features post-and-beam construction, horizontal railing and a flagstone porch and stairs. Woodsy green paint, new windows and black shutters further boost the home's curb appeal.
Before: Overgrown Adobe
The black sheep of the street, this small Spanish Colonial Revival-style home built in the 1920s, is a rarity in suburban Atlanta. It has the potential to be a real gem in the neighborhood but with a barren yard, overgrown arbor and faded stucco, it only stands out for its rundown appearance.
After: Spanish-Style Standout
The the Curb Appeal team start the makeover at the curb with this one, creating wide tile-accented steps that lead from the street to the new front porch that spans the entire length of the home's facade. The front yard is replaced by a circular stone courtyard surrounded by hardy ferns, petunias and banana plants.
Before: Past Its Prime
Built in 1959, this midcentury modern rancher isn't the typical candidate for a makeover in Chip and Jo's signature farmhouse style but the home's location and size won over the homeowners.
After: Mid-Mod, Made-Over
A fresh coat of white paint brightens up the formerly muddy brick while cedar mullions update the home's signature midcentury modern architectural feature: the floor-to-ceiling corner window. A matching cedar front door and window boxes tie into the window's new look. To further lighten up the home's exterior, Joanna swapped the brick in the low planters for gray stacked stone. Low plantings of ferns, ornamental grasses, dwarf laurels and Indian hawthorn replace the home's leggy, overgrown boxwoods.
Before: Hiding in Plain Sight
Evergreens are great for year-round color in your landscape but unless you plan to consistently keep them trimmed, they can grow too large to work as foundation plants.
After: Can't-Miss Yellow
Cousins Anthony Carrino and John Colaneri remove the overgrown evergreens, replacing them with oakleaf hydrangeas, hostas and bronze-leafed heuchera. Bright chartreuse false cypress really liven up the landscape and pair beautifully with the home's sunny yellow front door.
Before: Dark and Forboding
Recessed doorways are great because your entry is protected from the weather — but they tend to be dark. Painting the door black doesn't help to brighten things up.
After: Warm Welcome
A few coats of fuchsia paint take this formerly ho-hum front door from drab to fab. The cheery pink theme is carried to pots flanking the doorway filled with bouganinvillea and candytuft. The terracotta tile steps and board-and-batten siding also receive a makeover with fresh coats of warm, neutral paint.
Before: Well-Built but Bland
With all-brick construction, large windows and a circle drive, this home had great bones but its monochromatic color palette and uninspired landscaping could use a pick-me-up.
After: Timeless Transformation
's Chip and Jo pulled off a big update for minimal effort with just a few swaps. They replaced the uninspired rows of boxwoods with decorative grasses and other low growers so they don't compete with the home's original long windows. To give the entryway more presence, the front door niche was eliminated and Jo added a pair of beveled glass French doors surrounded by large glossy black planters and matching gas light-style lanterns.
Before: Haunted House?
The owners of this century-old San Francisco home are parents to five kids, including two sets of twins, so yardwork and home maintenance has taken a back seat to raising their family. This home is also, not surprisingly, a hub of activity each Halloween when the owners put the Victorian's forboding looks to good use as the neighborhood haunted house.
Source: www.hgtv.com
Share this Post