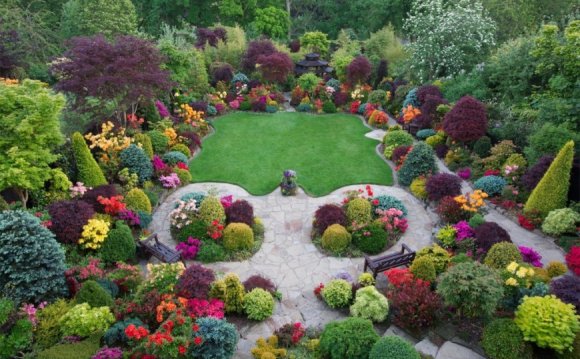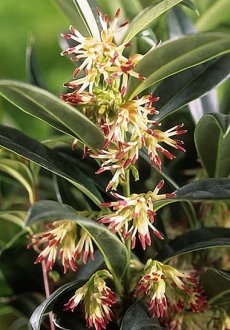 Christmas box enjoys shady areas and flowers in winter (John Glover / Alamy)
Masters of planting
I asked two of our best designers, and, if they had any thoughts on how to use shrubs. Like me, they were not entirely convinced by planning a shoulder-to-shoulder scheme of contrasting leaf colour. Pearson said he did not like shrubberies merging into an amorphous mass. He wants to see distinct outlines, so he might use a planting of witch hazel, underplanted with bulbs or treat Euonymus planipes in a similar way. The witch hazels would be lovely in earliest spring and autumn, but less of a thrill in the summer and they would need plenty of space. Most witch hazels reach 10ft high and almost as wide in moist, leaf mouldy soil. They would never be an option on my dry Cotswold brash or any similar soil. The euonymus would major in autumn colour, and shelter spring bulbs early in the year. This elegant version of spindle berry would again need quite a lot of space. Pearson also recommends using leggy shrubs such as buddleia and Rosa moyesii, or R. omeiensis, emerging from layers of perennials and bulbs.
Both Stuart-Smith and Pearson recommend leggy buddleia (Anthony Adams / Alamy)
Restraint is a characteristic of a Pearson planting, so I cannot imagine him using too many varieties in one eyeful. He might, he says, choose Hydrangea serrata or H. quercifolia in a "posh scheme" and Aesculus parviflora, the summer flowering buckeye chestnut, is a favourite shrub. But like Pearson's other choices, the chestnut is on the large side for most gardens. Rosa spinosissima, shrubby salix and daphnes are less daunting recommendations where space is tight. Magnolia sinensis, Rhododendron luteum and enkianthus for acid soil are other Pearson possibilities and he always likes to use native plants – willows, hawthorns and common holly.
Fluidity is key
A conversation with Tom Stuart-Smith produced a similar response. He suggested that a fluid overall look is what matters in his schemes, that the "bunchy" look of mixed shrubs never appeals and that putting shrubs next to one another usually results in two half-dead shrubs. He pointed out that the dynamics of growing shrubs can be vexing. "First they are too small, then they are too big."
Like Pearson, he prefers naturally leggy things that rise above a lower layer of planting.
Species roses, buddleia, tree peonies and philadelphus are all on the Stuart-Smith list. Recently he has planted a whole hill with rhododendrons in Scotland and a native maquis on rubbish gypsum soil around a finca in Spain. This is all major league stuff, but in a recent scheme for a London garden he chose to give some sculptural plants their own space on a grass carpet.
Stuart-Smith grows Rhus typhina with hakonechloa grass and box (Jerry Harpur)
Tetrapanax papyrifer is the rice paper plant from Taiwan. The huge exotic leaves are evergreen, but probably not hardy, except in the microclimate of London or Cornwall. Euphorbia pasteurii, is rarefied and has only recently become available.
This is a cross between Euphorbia mellifera and E. stygiana but hardier than both. Like all spurges it is a handsome thing, but the milky sap can be irritating, so you probably wouldn't base a scheme on these plants where there are children around. However, the idea of planting one or two spectacular stand-alone shrubs and giving them space to display their glamorous leaves all year may be one to try. It would also involve very little maintenance.
Flower power
Because I love flowers more than leaves, when I choose shrubs I like them to punctuate a planting of bright flowers. I might try clipped round bushes of the evergreen Osmanthus delavayi with white flowers in April, combined with something tall and arching – perhaps Rosa moyesii with bottle-shaped hips in autumn, or Rosa cantabrigiensis of the ferny leaves. Another combination might be evergreen Sarcococca humilis with its honey scented scraps of flower (out as I write), with a silvery leafed Buddleja 'Nanho Blue'. But I would want the ground around and beneath my domes and spires combination to be studded with as many small bulbs as possible, including snowdrops, scillas, fritillaria and crocus in spring, with lashings of cyclamen in autumn.
If I wanted to try something that almost managed itself, taking the low maquis-type planting as a template, but choosing things that will work in a less-than- Mediterranean climate, I would (nearly) be happy with a mixture of Daphne retusa and Potentilla 'Vilmoriniana'. The latter has silvery leaves and pale cream flowers. I'd plant it bunchily – in groups of five or seven – so that it grew into large round domes. For a little height I might add the Russian sage Perovskia atriplicifolia and some suckering Rosa nitida with pink scented single flowers, followed by hips in autumn when its shiny summer leaves turn yellow and red.
Daphne retusa has wonderfully scented flowers (Holmes Garden Photos / Alamy)
I think shrubs are trickier to cope with in the garden than perennials and half hardies. Most shrubs get too big for the average plot, so unless you are gardening on the scale of Dan Pearson or Tom Stuart-Smith, I doubt (but someone will prove me wrong) that it is possible to use more than 20 per cent in an average mixed planting. It also helps to choose shrubs that have two seasons of interest. Rosa moyesii with flowers followed by hips is a better bet than lilac, which is dull all summer.
Source: www.telegraph.co.uk
Share this Post