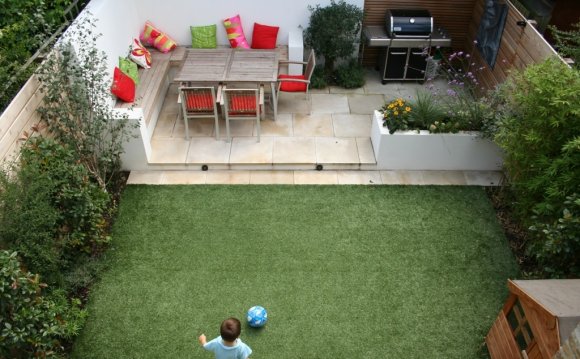 Known as the "Garden Capital of the World, " London is renowned for its magnificent formal gardens, including the Kew Royal Botanic Gardens and the gardens at Hampton Court Palace. In the more congested urban areas of London, where space is at a premium, gardens are still customary and highly coveted. The challenge is to design them on a much smaller scale while striking a balance between the beautiful and the practical.
The sun lounge terrace is anchored by a dry-stone feature wall. In the evening, the spotlights highlight the wonderful texture of the stone. Photo by: Daniel Shea
"In urban and suburban London, gardens are usually quite small and are overlooked by neighbors, " says Daniel Shea, a garden designer based in north London. "I try and create spaces that are intimate, relaxing, and private, which can be challenging in these built-up areas."
For this small townhouse in Barnsbury, London, Shea was asked to create a sophisticated, contemporary garden for relaxing and entertaining while screening the space from the surrounding townhomes. The clients, a professional couple, planned to use the garden primarily on the weekends and evenings. Therefore, lighting to extend the use of the garden well into night was critical.
A gas outdoor fireplace and garden lighting extend the use of the garden into the evening. Photo by: Daniel Shea
Before Shea began his transformation, the garden was nothing but a small stone terrace and a rotting wood deck surrounded by a lawn and narrow borders. Still, he saw all the potential the space offered. "The garden was semi shaded and enjoyed a sheltered position due to the surrounding tall townhouses and central London location, " he says. "The clients had a modest budget, but this soon increased as the design progressed and they became more and more enthused."
The design for the space was inspired by the client's interior décor of fine artwork and contemporary furniture and reflects these refined tastes. The central area of the garden has a water trough, clad in white limestone, that spills onto a dry-stone path.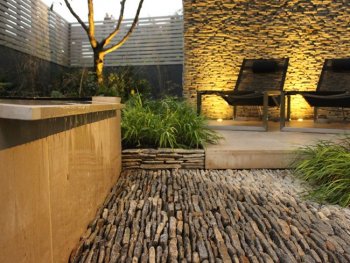 Towards the rear of the garden is a sun terrace with a dramatic dry-stone wall up-lit by three spotlights, which highlight the wall's beautiful textures. For the main social area, Shea's focus was to make it ideal for entertaining. It features a large gas fireplace, a gas grill, and a chrome-framed modular sofa, with white limestone paving added for a touch of luxury.
A limestone-clad trough spills water onto the dry-stone paving, which adds texture and contrast to the pale cream limestone. Photo by: Daniel Shea
The planting scheme is equally sophisticated, displaying soft tones of white and green in contrasting textures (see Shea's plant list). Three silver birch trees were also installed to provide a sense of seclusion amid the surrounding matrix of townhouses.
A mature Magnolia grandiflora and row of silver birch rise above a mix of plantings in soothing tones of green and white, including Echinacea purpurea 'White Swan', Dryopteris wallichiana, and Helleborus x hybridus 'Pretty Ellen White'. Photo by: Daniel Shea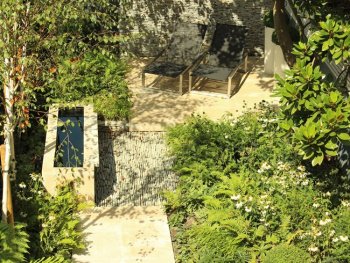 "I wanted to create a clean, relaxing, almost hedonistic garden of white stone, white tree bark, and white flowers with the relaxing green tones and foliage, " says Shea. "I tend not to use lawns and instead replace them with plantings and stone."
Hakonechloa macra and Dryopteris wallichiana help to soften the stone pathways and walls. Photo by: Daniel Shea
List of Plants and Why Shea Chose Them
'White Swan': One of my all-time favorite plants. It's tall, graceful, has good form and structure, and flowers for a long period. It also looks good after flowering, as the plant's structure remains firm and upright.
Astrantia major 'Star of Billion': Early summer flowering, a profusion of wonderful white flowers, very graceful and unique. The foliage is also of interest. Deadheading helps encourage flowering.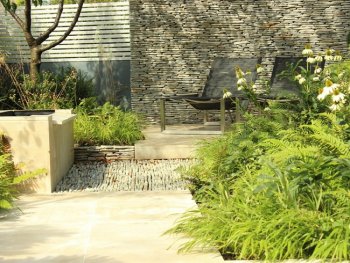 Hakonechloa macra: I use these on the verges of my planting borders. The way the long, soft green foliage gracefully cascades onto the white stone knits the hard and soft landscaping together.
Dryopteris wallichiana: My go-to fern. It has great texture and I love the furry black stems as they unfold. It's quite rigid, so it can support more flimsy plantings behind it.
Helleborus x hybridus 'Pretty Ellen White': I like adding this plant into my combinations because its unique leaf rises above the groundcover planting and works well with any plant. It also provides graceful, white, early spring flowers.
Deschampsia cespitosa 'Goldtau': This grass adds depth to a planting scheme. The shimmering bronze seed heads provide movement and a golden glow in late evening.
Buxus sempervirens: I planted this in white stone planters on the main lounge terrace and the sun terrace towards the rear. It adds a classical elegance to the more formal areas of the garden.
Betula utilis var. jacquemontii: No white garden would be complete without silver birch. These trees provide winter interest with their ivory bark, and their light-green canopy provides screening from the neighbors without casting too much shade.
Source: www.gardendesign.com
Share this Post