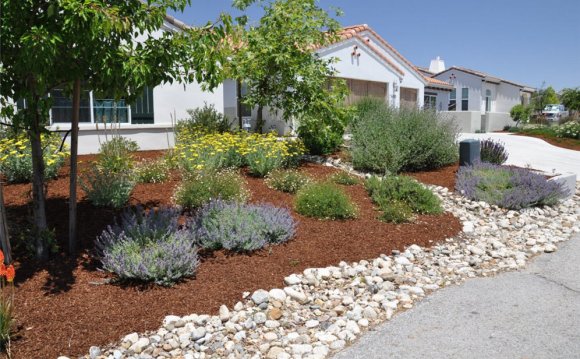 Front Yard Waterfall With Boulder Landscape Shaping and Surrounding Garden
This gorgeous front entrance features a rock lined waterfall splashing down on a bed of rocks. Bright perennial and annual gardens surround the water feature for a lush, mountainous look. Stone columns frame the covered entrance hall leading to the front door.

Front Entry Landscaping With Paver Walkway, Wood Steps and Gardens
A concrete driveway transitions into a paver walkway leading up to the front door of this home. Planted sections border the walkway adding life and color to the landscaping. The rock and wood give this entryway a mountain-inspired feel.

Enchanting Entry With Wood Footbridge, Paver Walkway and Stream
Enter this one of a kind home through the paver walkway and wood foot bridge crossing over a beautiful, flowing stream. The water and natural rock create a beautiful natural look and movement against the sharp, clean edges of the walkway.

Decorative Front Yard Landscaping Featuring Large Rocks, A Waterfall Feature and Bright Plant Life
This dramatic front yard features a six-foot-wide waterfall that plunges five feet to the lower terrace. Surrounding this water feature, the landscape is adorned with lush perennial and annual gardens. Large stones create gorgeous shapes and textures against the trimmed grass.

Front Entry Landscaping With Rock Details, Waterfall and Lush Plant Life
This front entrance features a flowing stream that gives way to a 6 foot wide waterfall that plunges 5 feet to the lower terrace. Boulders frame the perimeter of the landscaping and create a mountainous feel. Rich plant life keeps the space bright and airy against the natural gray tones of the rock.

Rock Landscaping in Yard With Stone Steps Leading From Lush Grass to Concrete Driveway
Large stones give a beautifully natural quality to this bright yard area. Stone steps and a small walkway create a path from the grass to the driveway for a fluid transition toward the home. The healthy green plant life looks extra vivid against the coarse, natural gray and brown tones of the rock.
Source: www.hgtv.com
Share this Post