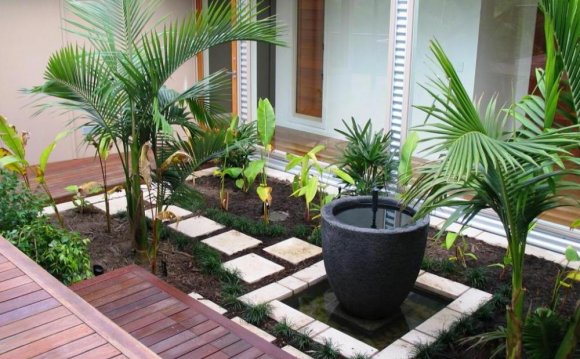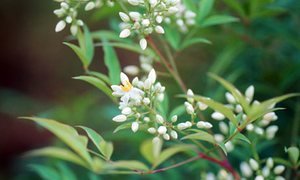 Nandina domestica makes a great evergreen for a sunny garden. Photograph: blickwinkel/Alamy
Small gardens need bulk to be successful. The most impressive schemes are those that pare a planting scheme down to the bare minimum. It never fails to surprise me how much impact can be created with just a few species. A planting scheme should always allow for seasonal interest as well as evergreen foliage and ephemeral colour in the summer. The best way I find to pull a scheme together is to think about the following questions in this order:
What has to be hidden?
Sarcococca confusa. Photograph: MBP-Plants/Alamy
For masking ugly buildings, sheds, railway lines and lampposts, think evergreens. They play a vital role in holding a planting scheme together and are hugely beneficial when there are ugly views to hide. Many work as well in containers as they do in the ground, given the right soil.
Evergreens for sunny gardens
• Pittosporum tenuifolium or Pittosporum tobira (sheltered gardens only).
• Olea europaea
• Nandina domestica
• Laurus nobilis
• Dicksonia antarctica
• Climbers Clematis armandii, Clematis flammula and Lonicera henryi all have interesting leaves as well as flowers and their rampant growth will mask a wall or fence in no time.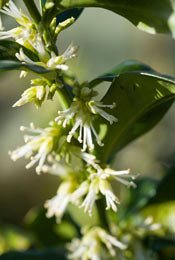 Evergreens for shade
• Fatsia japonica
• Sarcococca confusa
• Euonymus fortunei 'Silver Queen' will support itself quite happily up a wall or fence.
• Camellias, rhododendrons and in partial shade Drimys winteri is also lovely but will require some shelter.
Where do I want seasonal interest?
If hellebores are planted for winter colour will I be able to see them from the house? Should they be sited where they will not interfere with summer colour or can their leaves be incorporated into a summer scheme? Will I be able to detect the scent of a sarcococca from the far corner of the garden or should I plant it closer to a door or window?
Smaller plants for sunny gardens
Lavandula 'Hidcote' is well behaved as are the smaller hebe and parahebe; grasses can add texture to small garden schemes so if you're lucky enough to have some sunny spots in the garden, Stipa tenuissima and calamagrostis are worth considering, although the stipa can be a little generous with its seeds and if you don't like weeding then it's not the plant for you.
Some of the smaller perennials are also good when planted en masse. Salvia x superba, Verbena rigida and all manner of heuchera varieties will combine together to give a show that lasts for weeks and weeks. Summer flowering clematis, both herbaceous and climbing can also be used. Clematis x eriostemon is particularly wonderful and will trail itself over bulky evergreen shrubs to liven them up in the summer.
Geranium phaeum: a great plant for shady small gardens. Photograph: FLPA /Alamy
Smaller plants for shady gardens
• Epimediums (any, I haven't found a duff one amongst them yet and I have planted a fair few in my time)
• Asplenium scolopendrium
• Hosta 'Halcyon'
• Geranium phaeum
• Dryopteris erythrosora
• Liriope muscari
• Pulmonaria 'Cotton Cool'
• Helleborus niger
• Hydrangea petiolaris
Can I make it work with fewer plants?
Will less variety give a better impact? Inevitably the answer is yes: I will rework a scheme until I have the right balance of evergreen coverage, seasonal colour and a time plan that works for my client. Spend time planning your garden on paper, research the plants you want to use, know what conditions they require and how much care they will take. Pare the scheme down until you are happy that you have just enough - any gardener will tell you it is always easy to add more!
Source: www.theguardian.com
Share this Post