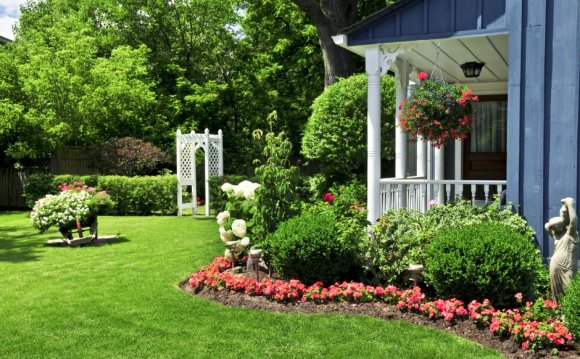 2. Contemporary Rain Garden
Location: Palms neighborhood of Los Angeles
Size: 1, 000 square feet (92.9 square meters)
Designer: Tom Rau Landscape Architecture
Bobbie Allen's nearly 1-year-old front yard not only consumes less water than it did when it was a lawn, it cleans water as well. Landscape architect Tom Rau designed much of the sloping front yard as a basin that captures, cleans and percolates rainwater that drains off Allen's nearly-2, 000-square-foot roof. The first three-quarters of an inch or so of water that falls percolates through the basin, being cleaned by the soil and plants as it replenishes the groundwater. "That's what they call the first flush, " Rau says. After the first flush, which washes all the dirt and debris off the roof into the garden, clean water overflows the basin and runs along the stone swale into the storm drain at the street.
The plants in and around the basin of the rain garden were selected for their water tolerance, with those in the middle of the basin able to handle both drought and water inundation. Grasses that can handle some water grow on the sides, and purple needle grass (Stipa pulchra), California's state grass, grows on top. 'Timeless Beauty' desert willows (Chilopsis linearis 'Timeless Beauty') on either side of the basin provide habitat for birds.
Plants shown: 'Blonde Ambition' blue grama (Bouteloua gracilis 'Blonde Ambition'), 'Dana Point' California buckwheat (Eriogonum fasciculatum 'Dana Point'), desert agave (Agave deserti var. deserti), 'Timeless Beauty' desert willow (Chilopsis linearis 'Timeless Beauty'), purple needle grass (Stipa pulchra)
Source: www.houzz.com
Share this Post