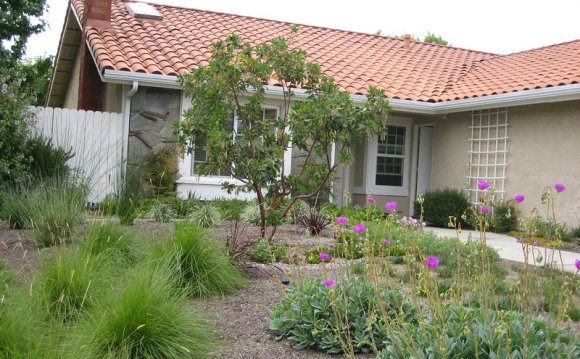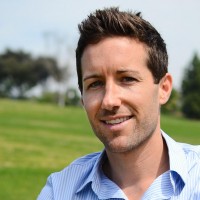 Drought-tolerant landscape, particularly when using native plants, can also save you time and money when it comes to ongoing maintenance, beautifies your home in a way that complements the local, natural scenery, and can reduce your home's environmental impact.
By choosing plants, ground covers and irrigation methods that require less water, you can make your home's landscaping more water and energy efficient, create an enjoyable outdoor living space and avoid surcharges for excessive water usage in drought-prone areas that implement these excess-use fees.
Water conservation through water-saving landscape design can be as simple as limiting the space dedicated to natural grass lawns – which are among the top residential water wasters – or it can involve a complete xeriscape design for a new yard or a xeriscape overhaul for your current landscaping.
What is Xeriscape?
Xeriscaping is a method of landscaping designed specifically to address the water conservation needs of homeowners and business owners in arid and semiarid regions, such as Southern California and the majority of the southwestern United States.
This landscaping technique includes the creation of welcoming, visually appealing landscapes using native plant species, drought-tolerant plants, water-saving irrigation methods, mulch and other ground covers that do not require water and can increase the ground's ability to retain moisture.
Aside from helping you conserve water and save money on utilities each month, xeriscaping with native plant species can also eliminate the need for pesticides and fertilizers, lower your carbon footprint by eliminating the need for yard equipment that uses fossil fuels, decrease the amount of time required to maintain your landscaping and provide a natural habitat for wildlife in your area.
The concept of xeriscape is simple: to conserve water through soil improvement, proper irrigation, appropriate use of ground covers, and the use of native, drought-resistant plants.
However, designing and implementing a successful xeriscape project requires the consideration of many factors, including which plants to use, the current state of your soil, the amount of sun and shade received in different areas of your yard at various times of the day, and the need to create a visually pleasing, usable outdoor space that fits your family's needs.
Some homeowners may find this to be an enticing project that they would like to take on as their own xeriscape designer, calling in outside contractors only as needed, such as to install pavers for a patio or artificial grass after they remove their natural grass lawn.
Other homeowners may want to consider hiring a professional landscape designer with experience in xeriscaping.
Enlisting the help of a professional with the knowledge and experience needed to complete a successful xeriscaping project is often the best way to ensure you will be satisfied with the end result.
This also helps you ensure that the finished landscape will meet your water conservation goals, as well as your goals related to how you would like to use the space.
Tips for Conserving Water with Xeriscaping, Drought-Resistant Plants and Ground Covers
Know Before You Grow —
Before you start planting things you have seen in magazines and assume are perfect choices for your water-conserving design, get to know the specifics for your area.
This includes researching the amount and distribution of natural rainfall each year, which native plants are specific to your region and likely to thrive in your xeriscape, which exotic plants to avoid due to their invasive tendencies, and which natural turf options have adapted to your region and require the least amount of water.
Be sure you select your native plants based on the size they will eventually be, rather than the size they currently are.
You will also want to plan any tree planting to maximize shade to reduce evaporation and to possibly use as windbreaks or natural climate control options for your home.
Before you begin installing your water-saving landscape, map out your yard to better understand naturally occurring drainage and areas that receive the most sun at different times of the day.
This will inform which types of plants and ground covers should be used in various sections of your yard and will help you determine irrigation zones that group together elements with similar watering requirements.
Limit Your Lawn —
If you simply must have a natural grass lawn, limit the area dedicated to this feature and work with your local gardening center to find an option that will thrive in your region with minimal water.
You might also consider forgoing natural grass and opting for artificial turf, which will allow you to use the area just as you would with natural grass, but will not require the same level of maintenance and water needed to maintain a natural lawn.
Test Your Soil —
For the most satisfying end result, consider testing your soil and making improvements before planting.
You can purchase a home soil testing kit if you are the do-it-yourself type, or you can enlist the assistance of your local garden center to test your soil for you.
If you find that your soil is too alkaline or does not have an adequate phosphorous content, both of which are common in soils found in the southwestern United States, consider adding bone meal or rock phosphate to remedy this.
Bring on the Mulch —
Covering the soil around plants with several inches of mulch is a good idea overall, regardless of whether or not xeriscaping is part of your design.
Using natural options, such as wood chips, compost, bark or leaves, helps the soil retain moisture, while also helping you keep weeds and erosion to a minimum.
These natural mulch options will break down into the soil over time, which can improve your soil, but also means that you will need to add more mulch on occasion.
Saving Water Without Having a Backyard Desert
It is a common misconception that xeriscape and other water-saving landscape designs will inevitably result in a backyard that looks more like a barren desert than an inviting oasis.
While a desert landscape is certainly possible and can be an attractive option, you do not have to base your backyard design around cacti and gravel.
You are in control of just how much water your landscaping saves or uses, and can choose the types of plants, water features, patios and turf options that appeal to you.
This could include simply replacing one section of your existing natural grass lawn with a rock garden, creating a border with flowering native plants, or designing a luxurious outdoor setting with meandering paver walkways and vibrant synthetic turf that can transform your yard into a country club-like setting.
Saving water through landscape design can take on many forms depending on your preferences and your family's needs.
Source: www.installitdirect.com
Share this Post