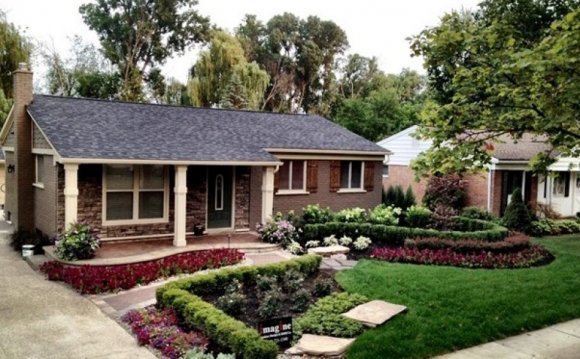 Eager to start their lawn makeover, Morgan and Mindi strike a pose with host Jason Cameron.
Before: Weedy Lawn
This bare yard is begging for a little TLC. The weedy yard lacks color and texture and offers only one small tree in the way of landscaping.
After: Bold and Bright
Lush plants and a charming gravel parking lot bring interest and drama to the once basic home.
Meet Sidney Davis
Jason and Sidney teamed up to redo Sidney's small, mint green home as a part of Rebuilding Together New Orleans.
Before: Cookie Cutter
Sidney knew a thing or two about hard work and was eager to help with his landscape transformation.
After: Personal and Stylish
A salmon-pink home sets Sydney apart from his neighbors, while pretty and practical trees provide a bit of privacy.
Meet Mike and Claudia Ratterman
Mike and Claudia were a cute couple living in a cute home. The only problem? Their landscaping could use a spruce.
Before: Totally Dull
Known for its elegant style and ornamental facade, this attractive Tudor home lacks the same detailed look in its landscaping.
After: Cheery Surprise
Now, structural plants and bright pops of yellow mimic the home's sharp lines and interesting details.
Meet Marcy and Ryan Hessling
For Marcy and Ryan, a boring home just wouldn't do, so they hoped to display their fun, carefree personalities through the landscape remodel.
Before: Bare Bones
Though it's obvious the house is stunning, it wasn't reaching its full potential with a drab paint job and no landscaping to speak of.
After: Colorful Showstopper
A gorgeous iron gate, blue stone walkway and patio, bright hues on the home and colorful details all around gave this home a bright, spirited renewal.
Before: Rocky Start
A yard entirely of rocks proved to be a big job for Jason Cameron as he worked to improve this unique landscape.
After: Artfully Artificial
To conserve water in this Las Vegas lawn, an artificial lawn was installed along with desert-hardy plants.
Meet Kathy and Billy Baruth
Billy and his wife Kathy, a popular morning show DJ in Chicago, were surrounded by beautiful houses with perfectly manicured lawns. Theirs stuck out like a sore thumb.
Before: Awkward and Unruly
Wild weeds and a hidden front door made this lawn look unkempt and forgotten, the perfect candidate for a total front yard renovation.
After: Polished Plantings
After cutting down a large diseased tree, several other small trees were placed around the home's perimeter.
Before: Out of Sight, Out of Mind
A front door that can't be seen from the road wasn't given much attention before the makeover.
After: Custom Retreat
The new front door area features a cedar bridge and a custom slate waterfall fountain. A pair of rustic railroad ties pulls the look together.
Before: Small but Sweet
In a neighborhood where only 25 feet separates your door from your neighbor's door, space is at a premium.
After: Neighborhood Knock-Out
Despite the close quarters, Jason Cameron is able to give this sweet home major curb appeal, complete with a newly painted door, fresh plants, new stairs and even a new paver walkway.
Meet Jeff and Robin Ankeny
Jeff, a wine broker, along with his wife Robin, a cake ball baker, are ready to turn their mid-century modern home into the showstopper they know it can be.
Before: Enter if You Dare
This Dallas home looks more like a fortress than a house with the huge brick wall surrounding the entrance.
After: Warm Welcome
With the brick wall removed and a spacious deck added, the homeowners are ready to throw a party. A cheery yellow door, funky outdoor art and a great place to sit and relax make this house the perfect place to entertain.
Meet Bethany and Michael Davidson
It looks like Jason's landscaping plans are more than Bethany and Michael expected for their Cincinnati home.
Before: A Blank Slate
Before the makeover, this home lacked the cozy, cottage feel so prominent in Tudor-style homes.
After: Country Cottage Style
A new iron railing and colorful door give this Tudor home a soft, welcoming look. A group of shrubs and flowers in various sizes add interest to the home's main entrance.
Meet Jason and Jennifer Hargis
Artist Jason and his wife Jennifer have a home full of beautiful art, but the outside of their house was in need of a touch up.
Before: Boring in Beige
For being the home of an artist, this house was definitely lacking personal flair.
After: Paint and Planters
A fresh coat of paint and stainless steel planters give the home a cozier, lived-in look that is a major improvement from the lifeless before.
Source: www.diynetwork.com
Share this Post