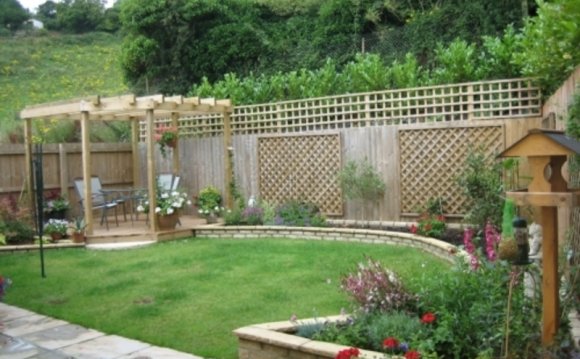 The concrete steps leading to this Seattle home are steeper than they look and are cracked, uneven and worn. The reward for making this climb is a yard full of dead grass, plus more steps up to a postage-stamp-sized front porch.
Wider steps and two new terrace levels break up the space (and the climb) while creating new living spaces. A much larger deck helps conceal the garage area and gives the homeowners a perfect vantage point to enjoy their view of the Seattle skyline. Get another view of this front yard.
The interior of this Phoenix home reflects the eclectic style of the homeowners and their love of Spanish-Colonial and Tuscan decor, but the front yard looks more like a moonscape than a landscape. The homeowners want a circle driveway and a front courtyard.
The dramatic design combines natural desert beauty with the Old-World style the homeowners love. In addition to the circular drive, they'd wanted a xeriscaped landscape (a front yard with no actual grass) so the mix of plants includes agave, desert willow (Chilopsis linearis) and small cacti. Lantanas and potted geraniums provide plenty of color, and an enormous saguaro cactus confirms that this home is a desert hideaway.
The homeowners love their cute, trendy Venice home but not the chain-link fence, a tired lawn and unimaginative concrete walkway. They want tropical plants that are better suited to the diminutive size of their California garden.
A custom curved fence, quartzite-paved hardscape and an abundance of tropical plants combine to create a dramatic entrance to the front yard.
Visitors can barely see the house, and the homeowners can't enjoy the mountain view, thanks to the overgrown junipers and hedges. Plus, the homeowners want to highlight the charm of their home and its distinctive architectural elements.
Source: www.diynetwork.com
Share this Post