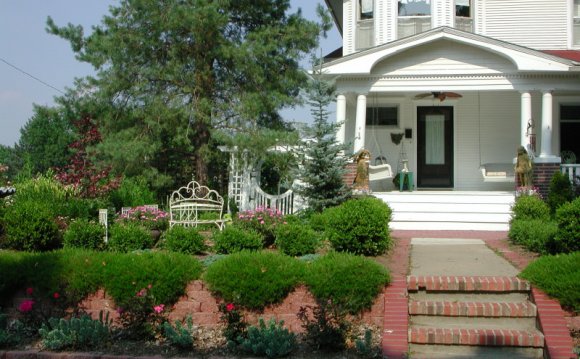 Traditional holiday door decor gets a playful upgrade with this charming DIY aluminum gingerbread man that resembles everyone's favorite seasonal treat.
Giant Advent Calendar With a Ladder
Drum up some neighborhood chatter with this oversized Advent calendar made with a ladder.
Crafty Paintbrush Garland
Freshen up your everyday decor with this colorful paintbrush garland. For a fun twist on traditional holiday decor, dress up your paintbrushes in red and green.
Hanging Rosemary-Wrapped Snowflakes
Hang these elegant rosemary snowflakes inside or outside for gorgeous fragrance and a soft glow all season long.
Giant Christmas Ornaments
Light up your exterior entryway with these fun and festive oversized ornaments made from a globe light fixture, food storage bowl and string lights.
Festive Rope Light Word Art
Make your season's greetings pop with this cheery DIY rope light project.
Festive Potato-Stamped Rug
This custom potato-stamped rug is festive and unbelievably easy to make. Plus, its geometric look is perfect all year round.
Waterproof Paper Wreath
Take the DIY approach with a weather-proof paper wreath that will easily become the centerpiece of your outdoor space.
Decorative Pallet Sled
Repurpose an old wooden pallet into a charming vintage-style sled that will add instant charm to any space.
Christmas Tree-Shaped Window Dowels
Put a modern spin on your holiday window decor with this colorful wooden dowel project.
Rustic Holiday Star
This inexpensive holiday star made from paint sticks and jute adds rustic charm to any holiday decor.
Source: www.hgtv.com
Share this Post