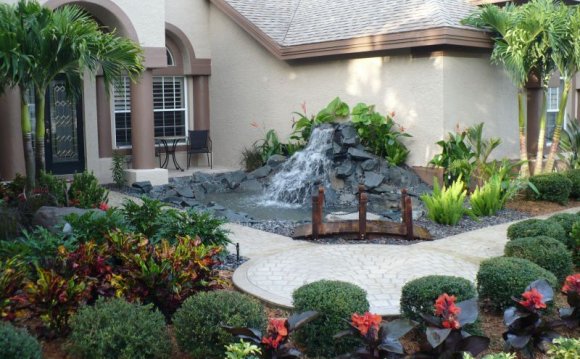 Along the driveway, bark mulch, lava rock, or washed stones can be used as an edging material to add contrast to the yard. For a lighter color, substitute limestone chips. Boulders provide mass to fill in sparse spaces while plants become established. Their even spacing mimics the hard lines of the house.
On the far side of the driveway, under a Washington hawthorn tree, inexpensive terra-cotta pots filled with colorful annuals sit among permanent plantings of blue fescue, black-eyed Susan, red-hot poker, and burning bush. For a different look, substitute wooden buckets, or other createive containers scavenged from thrift stores.
The Entry
A neatly trimmed barberry hedge wraps around the entry area and offers interest throughout the year, even in winter. Lilyturf and burning bush planted nearby also have multiseason appeal.
To the left of the front door, a simple trellis constructed of 4x4s and stainless steel cables decorates the bare wall. The purple clematis vine on the trellis helps connect the entryway to the rest of thegarden.
To the right of the door, a pair of 6x6 posts support simple board shelves holding potted plants. This helps define the entryway and hide the ugly side of the stairs.
Foundation Garden
Curved beds draw attention away from the house and break up the linear feeling of the architecture. The bed is edged in lilyturf (substitute dwarf daylilies north of Zone 6) and populated with reliable, long-blooming perennials like black-eyed Susan and red-hot poker, and shrubs like burning bush, Japanese spirea, yew, and cutleaf staghorn sumac.
In the foreground, a fast-growing tree, such as a silver maple, willow, cottonwood, or pin oak provides quicker-than-average shade and a more mature look. The trade-off: such trees tend to be messy and short-lived.
Source: www.bhg.com
Share this Post