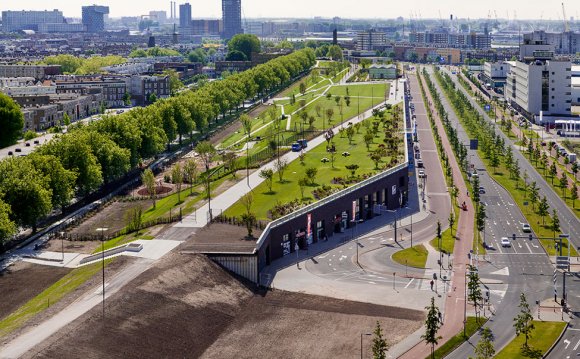 PEG office of landscape + architecture is an award-winning design and research office based in Philadelphia, Pennsylvania. They engage a variety of projects in terms of content, scale, and medium, ranging from immersive interior environments to large public spaces.
PEG's work explores the relationship among digital media, fabrication technology and construction. Through new media and fabrication technologies, PEG's work explores methods of systemic patterning to expand landscape's expressive agency in the shaping of the public realm. Their projects experiment with formal and temporal patterns; in all cases, these methods are used to craft variation in surface appearances, as well as participate in site functions, such as water collection, plant growth, and maintenance zones. These incremental infrastructures have implications for more integrative thinking about natural systems in relatively dense urban environments and offer new expressive potential for landscape via new combinations of organic and inorganic materials. The use of these tools and techniques has created a signature aesthetic, establishing PEG as part of the next generation in the field of landscape design.
Established in 2004, PEG has been, and most recently a Pew Fellowship in the Arts. Notable publications featuring PEG include A+T: In Commons II (2006), Architectural Record, "Emerging Practices" (2007), Urban Spaces: Squares & Plazas (Barcelona: Carles Broto, 2007), 1000x Architecture of the Americas (Verlagshaus Braun: 2008), "Remarkable Landscape Architects, " in ELA environment & landscape architecture of Korea (August 2008), Fellowships in Architecture (ORO editions: 2009), Advanced Public Space and Advance Interior Design (DAMDI: 2009). Most recently PEG was the feature practice in (May, 2013), and Metropolis Magazine's "The Select Ten" (October, 2013).
Bios
Karen M'Closkey
Karen M'Closkey, a founding partner of PEG office of landscape + architecture, is a licensed landscape architect in the States of Pennsylvania, California and Michigan. She has over ten years of experience working on a variety of award-winning landscapes.
Source: www.peg-ola.com
Share this Post