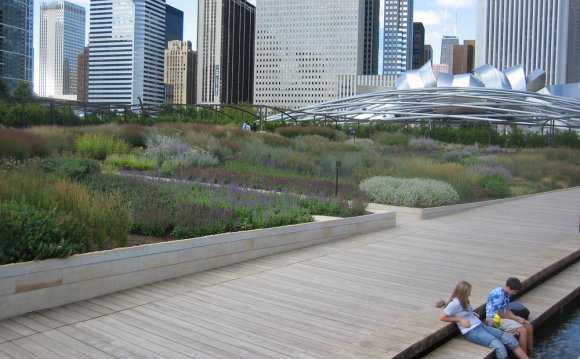 Given its preeminent role in the birth of the skyscraper, Chicago is often called a laboratory of modern architecture. This summer, the city has put on new mantle: It has become a nationally significant testing ground for public space.
Eleven years after the triumph of Millennium Park, with its luminous Bean and raucous Crown Fountain, Chicago has dedicated three major public spaces in rapid succession: The 606, with its 2.7 mile Bloomingdale Trail; the newly extended downtown Riverwalk, with its roomlike outdoor spaces; and Maggie Daley Park, with its colorful climbing walls, ice skating ribbon and children's play areas.
While the trio have experienced growing pains — the Riverwalk was flooded by the sewage-infested Chicago River just days after it opened — they appear to be a hit with the public.
At The 606, strollers, joggers, skateboarders and cyclists stream down a bike and walking trail that used to be an elevated freight line. Boats tie up at the Riverwalk as office workers sip wine, resting their glasses on high-backed teak benches. At Maggie Daley Park, a hive of kids run, climb, slide, holler and laugh as they enjoy colorful, creatively designed play equipment with skyline views that no suburban playground can match.
What's going on here?
It's not just more open space. It's a different kind of open space — more interactive and more richly planted than an ordinary park or the typical American corporate landscape of sod and trees. Michael Van Valkenburgh, the Brooklyn-based landscape architect of The 606 and Maggie Daley Park, has termed that banal, low-maintenance approach "Mow, Blow and Go."
The new pleasure grounds discard the formality of Grant Park, whose Versailles-inspired beauty can be as stiff as a starched collar.
They also differ, to a degree, from the designs of the great 19th-century landscape architect Frederick Law Olmsted, whose works include the South Side's Jackson and Washington parks. Olmsted's man-made meadows and meres sought to provide a refuge from the noisy and dirty industrial city. His parks also strove to form an alternative to private parks that required a key (and, one suspects, a sizable bank account) for entry.
Source: www.chicagotribune.com
Share this Post