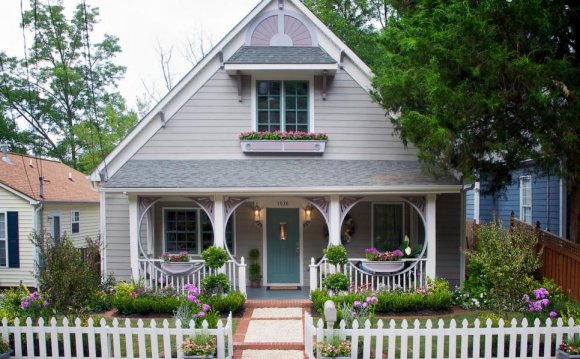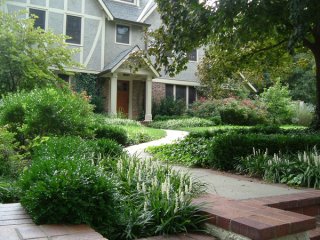 Overgrown shrubs crowd the front door of this home. When the shrubbery under the windows gets too big, the rooms inside feel dark and the views from the windows are compromised.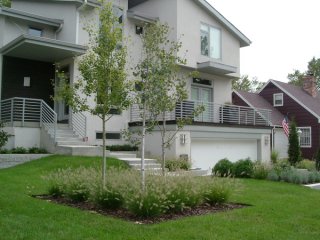 "I just like to get away from the term foundation planting and make the entire front yard useable, " says Barbara Hilty, a landscape designer in Portland, Oregon. Old-fashioned plantings with evergreens across the front of the house and then lawn all the way to the curb do not really take full advantage of the possibilities, she says. When you re-imagine the space and bring the design out into the garden, away from the facade, a house becomes a nicer place to come home to. Reducing the size of the lawn and adding variety to the plantings out front is also better for the environment, Hilty says.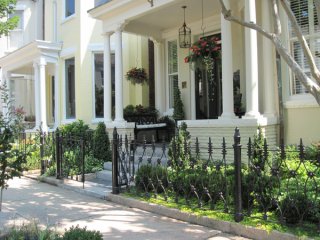 Foundation plantings traditionally were designed to cover up the stone or brick around the base of a house. A very simple old-fashioned planting might rely on just one species, such as yews or junipers, or perhaps azaleas, to help nestle a house into the landscape. Too often, these shrubs are planted too close to the house and then ignored until they become overgrown, obscuring the house and blocking views from inside.
Jane Cantin, a landscape architect in Norfolk, Virginia, sees overgrown foundation plantings all the time. "It's those cute little Alberta spruces, " she says. "They look like little baby Christmas trees. But after a few years they eat up the sidewalk. You can't even get to the front door." In frustration, homeowners try to prune them, but their efforts frequently backfire. "The shrubs get so whacked and wonky that they don't come back, and you just have to take them out, " Cantin says.
Source: www.uexpress.com
Share this Post