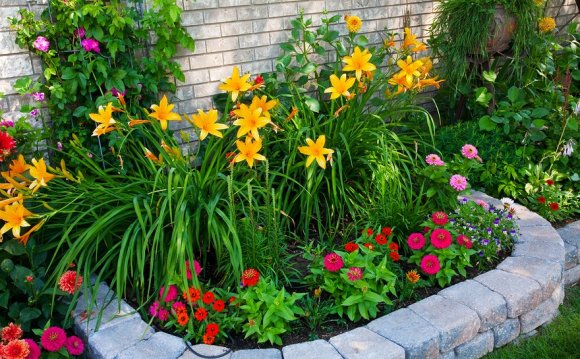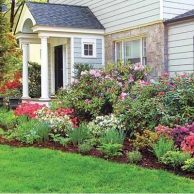 Photo by Chris Cohan, RLA
Put another way, a successful foundation planting starts with picking the right plants in the right proportion: evergreens to provide the structural bones of the beds year-round, deciduous and flowering shrubs to add texture, and perennials of varying heights that yield long-lasting color. Michigan-based landscape designer Jeremy Christianson offers this rule of thumb: About 50 percent of the foundation bed's space should be evergreens, 25 percent deciduous and flowering shrubs, and 25 percent perennials. But even then, a good plant can be placed in a bad spot. When you see that beautiful, blooming rhododendron at the garden center in a 2-gallon pot, you have to consider how big it will get over time before you plant it a foot from your house. Plan for at least 1 foot of space between the house and any mature plant to allow room for maintenance. This pushes the bed farther from the house, which is what most designers want, with front-of-the-house beds 6 to 8 feet deep. "This helps improve the view from inside, too, " says Walters.
Lastly, designers agree that a restricted color palette helps give foundation plantings a considered, cohesive look. "Too many colors distract the eye, " says Christianson. "When in doubt, use more plants with the same color or bloom instead of adding additional colors."
Read on for some top plant picks from our designers.
Shown: Spring-blooming shrubs brighten this scheme by land-
scape architect Christopher J. Cohan, of Rye, New York. Tall rhododendrons are placed nearest the house, shorter azaleas in front, with perennials and bulbs staggered in the foreground. For summer-to-fall interest, hosta and catmint start to stretch out as daffodils begin to fade.
Source: www.thisoldhouse.com
Share this Post