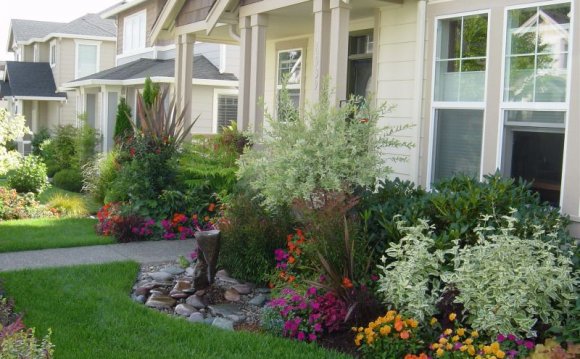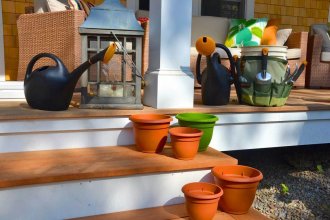 To start sprucing up the front entryway, I always like to start with fall planters of varying colors, shapes and sizes. This brings colors and textures to the area even before adding plants. Consider placing the pots in clusters of three (odd groupings look better than even clusters). Also, utilize the stairs for added height variations and try stacking smaller pots on top of larger pots.
When you are happy with how your pots are arranged, it is time to add plants to the mix. I like to use hearty plants like pansies, mums, ornamental kale and cabbage and ornamental grasses to help enhance the natural décor of the season.
1. Using my Big Grip Trowel, I add potting soil to the pots. With this over-sized head it only takes a few scoops to fill each pot.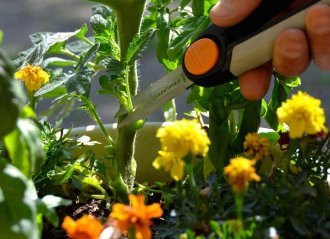 2. Now that the pots are filled, I add the plants. When adding plants you need to make sure that they aren't root bound. Many times the containers they started in were too small, causing the roots to bunch up in the bottom. To make sure the plant will grow well in its new home, use the Big Grip Knife to break apart the sides and bottom of the root ball.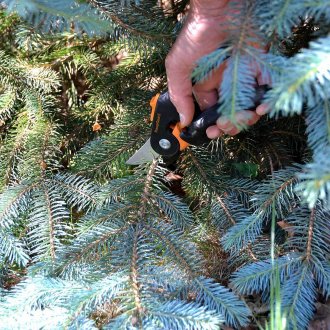 This will allow the plant to acclimate quicker to the new pot and take in all the nutrients it needs, which translates into a longer life and more color for the plants!
3. I like to add a layer of mulch to the top of the planters to finish off the arrangement, which helps insulate the plants and allows them to live longer into the upcoming cold months. The Big Grip Cultivator will help you spread out the mulch quickly and evenly.
4. Now that the pots are full of life and color, you can trim out any broken branches or dead flowers with the Garden Multi-Snip with Sheath. This is one of my favorite tools. Since it is small, I can take it with me anywhere, and it is ideal for a multitude of tasks. I used it for cutting open the bags of planting mix and trimming the broken or dead branches off the plants.
Another easy way to add life to your front entryway is with a centerpiece of cut branches, evergreens and pinecones, or a wreath for your front door made out of grapevines and fall leaves. Simply walk around the yard with your PowerGear2™ pruner and let nature inspire you with what to cut.
Source: www2.fiskars.com
Share this Post