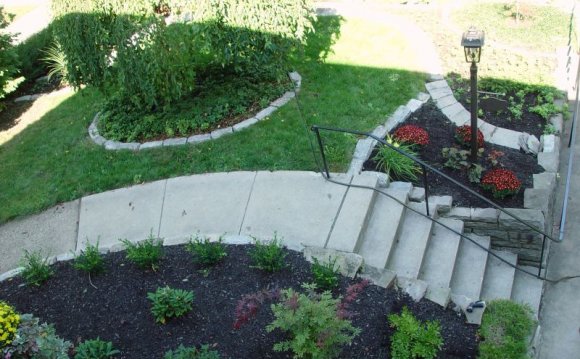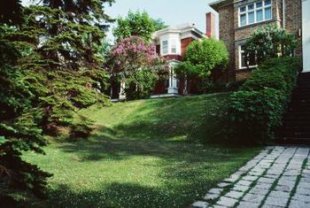 Make the sloping entry to your home gracious and attractive with good landscaping.
A sloping front yard can give your house the appearance of majestic height. It can also make yard care demanding and frustrating, while making the walk to your front door strenuous for visitors and family members. Erosion problems may even make your yard look neglected. Several strategies can tame your troublesome slope and make reaching your front door a pleasant, welcoming experience.
Identifying Slope Problems
Solving your slope problems involves deciding exactly what difficulties the slope presents. Appearance may be a big issue, especially at the entry to your home, but perhaps the slope is unattractive because growing conditions are difficult for plants. Erosion is another major concern, whether caused by wind or water. A third issue is whether the slope is taking space that could be used for leisure, play and relaxation. A slope that can be turned into productive garden space with soil enrichment, drip irrigation and some strategically placed large rocks or timbers is a strenuous but manageable do-it-yourself project. For terracing, retaining walls or major hardscaping, you may need professional help.
Lessen the Lawn
One major frustration in a sloping yard is lawn management. Hauling the mower increases the chore, and grass often grows unevenly because soil drains poorly. Especially as water conservation becomes an increasing concern, consider replacing segments of lawn with pebbles, crushed shells or paving tiles set in sand, which decreases the need for watering while fostering absorption of rain water. In areas subject to wind erosion, explore local varieties of drought-tolerant plants to retain soil while maintaining a growing garden. For erosion caused by rain or runoff, look at rain-garden plants available in your area. Your county extension office may maintain a list of plants particularly successful in your growing conditions and micro-climate zone. Texas A & M University Extension suggests that you also check on possible municipal programs that support xeriscaping or rain-gardening.
Stepping the Slope
Creating more level space in your yard may require professional help because of the volume and weight of soil to be moved, but terracing can create islands of flat space on parts of your slope. Islands that improve the front entrance to your property might include an expanded front porch or terrace and expanded stair landings that break up the trek from the curb to your front door. For building level front-yard planting beds, pressurized lumber and rebar may be adequate materials. Larger areas for sitting or entertaining may need to be constructed from or edged with stone blocks or concrete pavers. Building a stone or masonry retaining wall along all or part of the slope lets you fill in soil to change the slope's pitch. A sequence of retaining walls may be necessary for soil retention and any kind of planting in a steeply pitched yard.
Thinking Diagonally
Just as beginning skiers learn how to zigzag across a hill rather than plummet straight down, adding diagonals to your landscaping plans can help you navigate and use space effectively on a sloped front yard. A winding path or staircase makes getting to your front door seem like less of a climb than a straight one. Make the trip a stroll with focal point plantings and ornaments. Clusters of bulbs, specimen shrubs and weather-watching or bird-feeding stations can make reaching your entry a pleasant experience. Border a diagonal entry walkway with a rock garden full of low-maintenance alpine or xeriscape plants to interest visitors and provide continuity along the path. Situate plantings so that the eye travels back and forth across the slope rather than straight up and down. Visitors will appreciate both a less taxing ascent and the visual entertainments of a landscaping plan that includes diagonal lines.
Think Native
No matter what your climate or growing conditions, plan to use native plants in landscaping your sloping front yard. Plants native to your local environment will grow more successfully, requiring less water, fertilizer and pesticides, than non-natives. In a Mediterranean climate zone, for example, California lilac (Ceanothus spp.), Oregon grape (Mahonia spp.) and manzanita (Arctostaphylos manzanita) are only a few of the soil-holding, low-maintenance perennials that tolerate a variety of less-than-ideal growing conditions. Your local native plant society, environmental center or county extension service will have lists of natives that can meet your specific growing concerns.
Source: homeguides.sfgate.com
Share this Post