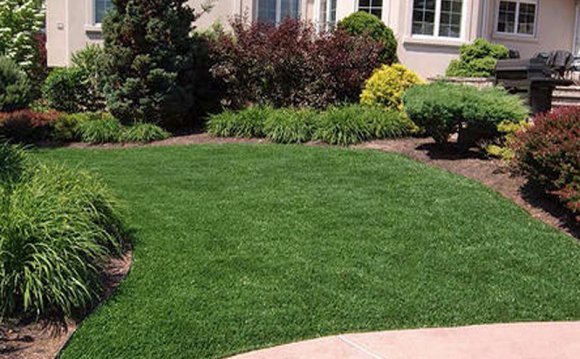 Hurrah, it's stopped raining for 10 minutes. Now, wouldn't it be lovely to celebrate with afternoon tea in the garden? Excellent. So, you'll be needing to pop to the shops for scones and cakes. And lawn seed and lawn fertiliser. Obviously lawn weedkiller, too, and those funny lawn aerating shoes, although the ground is so claggy après le deluge that a pair of the Duchess of Cambridge's £300 leather-lined French wellies might be a better idea.
Because whatever this weather's good for, it's not the urban lawn. When David Nalbandian kicked that advertising hoarding and, by unhappy extension, the line judge at Queen's Club, frustration was given as the reason – but at what? I'm betting it was grass envy; having served, lobbed and volleyed all afternoon on top-quality turf, he was probably thinking how much time, money and effort he's applied to his own lawn over the years, to no avail.
I know this, because my husband's reaction, once Wimbledon starts, will not be dissimilar (lawns, for some unrecorded reason being Man's Business, whereas herbaceous borders are a cissy, female domain). For eight years, my spouse devoted himself to persuading grass to grow in possibly the shadiest, driest, least accommodating corner of the UK. When it rained, the back garden was a no-go quagmire. When it shone, the thin straggle of grass down the middle looked disturbingly Brazilian. And I don't mean the rainforest. Moreover, during the recent hosepipe ban, the ground was so cracked the children skinned their knees if they fell on it, making it a no-go tundra.
It all looked so dreary that one day last month, I finally persuaded my husband we should fake it. So we did – despite a new survey by trade recommendation service RatedPeople.com that revealed that neighbours who Astroturf the garden are a source of annoyance to the average homeowner.
But my lovely new lawn is a far, far cry from Astroturf. In fact, the only reason it might possibly annoy anyone is because the grass really is greener on the other side of the fence. My fence. And here, lounging around on my synthetic sward, I have finally fallen head over heels for my garden. I love it. My children love it. My husband loves it. The dog may or may not love it, but she's still happy to wee on it. When everyone's tucked up in bed at night, I creep down, turn on the kitchen light and admire it. In the mornings, waiting for the kettle to boil, I smile at it. Sometimes I even Hoover it.
Our use of the garden has increased tenfold in the three weeks since our lovely artificial grass was installed, ably assisted, of course by gaps in the weather. At my lawn-warming party, everyone took their shoes off without even being asked and gasped in amazement at the luxuriant softness; it wasn't bristly, it wasn't even plastic-y, in fact it felt deceptively like real grass. The only real giveaway was that it wasn't cool to the touch, but had the warmth of man-made fibres. But that's not to say I didn't wrestle with my conscience before I took the plunge.
I was racked with guilt about the ecosystem and angstily consulted the green-fingered woman next door before taking any action, assuring her I would scatter my flower beds with bee-friendly plants by way of atonement. Their response was surprising; yes, of course I should go ahead. Lawn grass isn't nearly as biodiverse as hedgerow grass and, having commiserated with the fact I have a 40ft London plane tree casting long shadows over the garden, they were actually quite surprised I hadn't laid down paving slabs by now.
Mathew Frith, deputy chief executive of London Wildlife Trust, was rather less sympathetic to my lawn adventures. "We are losing about 3, 000 hectares of vegetation in our gardens every year in London, " he said, more in sorrow than in anger. "You are contributing to that. I understand why people want to put down a low-maintenance lawn, and they are free to do what they want, but there are wider consequences in terms of wildlife."
I recognise that grass is important in the food chain, although I'm not quite sure what lifeforms could have survived the annual onslaught of industrial chemicals I applied in a bid to keep what previously passed for a lawn alive. Was there, I pleaded, a way of salving my conscience? "You could put bird feeders up on your fence and grow variegated ivy, which provides cover for birds like the wren. In brighter parts of your borders, you could grow ox-eye daisies and meadow flowers."
But it's hard to please everyone: academics have been warning that, in future, as droughts in the South East become the norm, real lawns, which require a huge amount of water for upkeep, will be regarded as a sign of moral decadence. In short, you're damned if you do and damned if you don't.
My research revealed that you can buy lay-your-own artificial lawns from Homebase and B&Q for as little as £10 a square metre, but as with most things, you get what you pay for and the cheapest grass looks more like a short pile carpet. The choice of "grass" from specialist online distributors, on the other hand, is extensive and bewildering. You can buy play grass and fine grass and New Hampshire grass and Meadow grass, urban grass and landscape grass. There's certainly a demand for it; one company, Lazy Lawn, has seen its profits double this year as customers try to circumvent the changeable weather.
Not having any idea what to choose, I decided to consult Easigrass, which installs hundreds of artificial lawns a week and which has won (yet another) gold medal at this year's Chelsea Flower Show. Having had the choice between Knightsbridge, Belgravia and Mayfair, I opted for top-of-the-range Mayfair at £29.99 per square metre.
Source: www.telegraph.co.uk
Share this Post