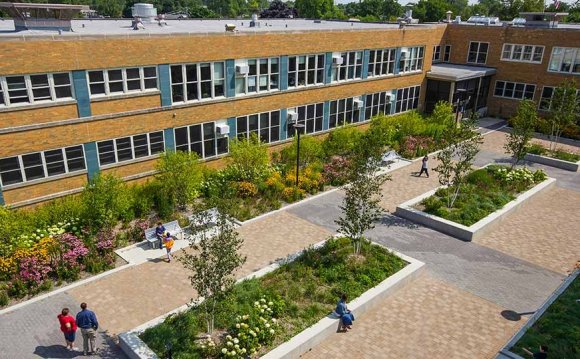 Quick: Name one famous landscape architect. Did you immediately think of Frederick Law Olmsted, considered by many to be the father of the landscape architecture profession in the United States? You may know of him because of New York's Central Park, which he designed with Calvert Vaux, another landscape architect. But do you know the name of a famous landscape architect practicing today? During National Landscape Architecture Month, celebrated during the month of April, there are plenty of opportunities to learn more about the profession and what exactly landscape architects do. It goes far beyond planting trees, shrubs, and flowers.
Landscape architecture encompasses the design of almost anything under the sky. Think of iconic places like Boston's Emerald Necklace and the FDR Memorial in Washington, D.C. But also consider your downtown square, your local park, or even your own backyard. Green roofs, urban farms, and corporate campuses—all define landscape architecture.
The colorful blooms of Silene caroliniana gave ASLA's green roof a burst of color at the beginning of spring.
Photo courtesy American Society of Landscape Architects.
A view of ASLA's green roof in its entirety from a nearby building.
Blooming sedum on ASLA's green roof.
Landscape architecture covers a huge spectrum, perhaps best understood by the profession's mantra: achieving a balance between the built and natural environments. It requires a multidisciplinary approach involving environmental science, art, ecology, and much more, leading to extraordinary results like restoring endangered wetlands, reducing hospital stays, securing government and other buildings, and removing toxins from rainwater. These aren't pie in the sky. These are what landscape architects are designing right now.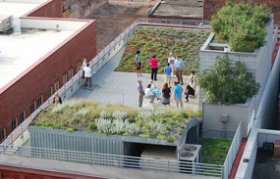 Founded in 1899, the American Society of Landscape Architects (ASLA) is the national professional association representing landscape architects. ASLA promotes the profession and advances its practice through advocacy, education, communication, and fellowship. Central to ASLA's mission and all outreach is stewardship of the land.
ASLA also works to increase the public's awareness of and appreciation for the profession of landscape architecture and its contributions to quality of life. ASLA is an active advocate for the profession at the local, state, and national levels of public policy involving licensure, the environment and sustainable design, livable communities, surface transportation, historic preservation, and storm-water management issues, among others.
According to Nancy Somerville, Hon. ASLA, executive vice president and CEO of ASLA, landscape architects have long been creating environments that encourage daily exercise, provide clean air and water, and even supply nutritious food. This helps combat growing epidemics of depression, obesity, diabetes, asthma, and heart disease. "Landscape architecture, more than any other design profession, epitomizes green design, and public health has always been an integral concern for landscape architects, " said Somerville. "National Landscape Architecture Month provides a great opportunity to highlight what landscape architects do to help everyone get outside and get healthy."
Above all, ASLA is the voice of the landscape architecture profession. And as that national voice, ASLA has put practice to action. The Society built a green roof on its Washington, D.C. headquarters to demonstrate the environmental benefits of green roofs as well as to showcase what landscape architects contribute to this type of project. You can read about the Green Roof and schedule a tour to see it yourself.
ASLA has also helped to transform land development and management practices through the nation's first voluntary guidelines and rating system for sustainable landscapes, with or without buildings, in an interdisciplinary partnership called the Sustainable Sites Initiative™ (SITES™) with the Lady Bird Johnson Wildflower Center at The University of Texas at Austin and the United States Botanic Garden. The guidelines and rating system represent years of work by dozens of the country's leading sustainability experts, scientists, and design professionals as well as incorporate public input from hundreds of individuals and dozens of organizations to create this essential missing link in green design. Major funding for SITES™ is provided by the Meadows Foundation and Landscape Structures.
More locally, last year ASLA launched The Landscape Architect's Guide to Washington, D.C. This online, mobile-friendly guide helps visitors and locals discover more than 75 historic, modern, and contemporary landscapes in Washington, D.C. and Arlington, VA. Expert commentary and more than 800 photos are provided by 20 landscape architects.
The Museum is celebrating the work of landscape architects during April. Join us on April 3rd for a Spotlight on Design lecture that features M. Paul Friedberg, FASLA, whose Yards Park in Washington, D.C. demonstrates the profession's important role in creating people-centric places. And in a Smart Growth lecture on April 17th, Kim Mathews, RLA, ASLA, principal of Mathews Nielsen, discusses resiliency and renewal through the lens of her firm's Cinderella projects on New York City's urban edge.
So, thank a landscape architect next time you stroll through a park, or walk down a bustling street with outdoor cafes, seating, etc. They had more of a hand creating those places than you might think.
Source: www.nbm.org
Share this Post