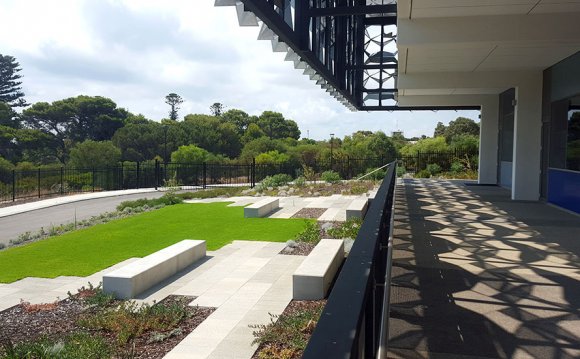 Accreditation from a US Department of Education-recognized accrediting agency indicates that a college, university, or vocational school meets high standards in terms of its faculty, curricula, student resources, and overall quality. While attending a school that has not been accredited doesn't necessarily mean that the school is of lesser quality, students are encouraged to thoroughly review a potential landscape design degree program from an unaccredited school with great scrutiny. Avoid diploma mills at all cost, and be wary of schools that advertise quick degree schemes for a fee, as they may be fraudulent.
There are different accreditation requirements for graduates from landscape design programs versus landscape architecture programs. Because professional landscape architects are required to be licensed, they must attend an accredited degree program in order to meet the application requirements for state licensure (LARE). Landscape designers, on the other hand, are not required to obtain a license, so there is no official requirement for landscape designers to attend an accredited degree program. Landscape designers will still benefit from attending an accredited college or university, however, as accreditation just helps ensure that a school has been evaluated and vetted by legitimate agency. Accredited schools can also access federal funding and enable students to transfer credits to other accredited schools.
Students who plan to apply for a professional landscape architect license in their state will need to attend a landscape architecture program that has been accredited by the Landscape Architectural Accreditation Board (LAAB) of the American Society of Landscape Architects. ASLA is recognized by the Council for Higher Education Accreditation as the authoritative accrediting agency for landscape architecture programs. Both ASLA and CHEA offer current lists of accredited schools and degree programs.
Certification and Licensing Requirements for Landscape Designers
Nearly all states require landscape architects to have a state-issued license, although the qualifying criteria for this license varies widely. The Landscape Architect Registration Exam (LARE) is the basis for most licensing programs; the exam includes both multiple choice questions and a graphic portion. It is sponsored by the Council of Landscape Architectural Registration Boards and offers six different paths to become eligible to take the exam. Each path involves a different combination of education and work experience so that not all applicants will have the exact same qualifications or background.
States require one to four years of professional experience in order to sit for this exam, plus a degree from a school approved by the Landscape Architectural Accreditation Board of the American Society of Landscape Architects. Some states may allow those without a degree to sit for the LARE after they have accrued a higher number of years of professional experience, and some states require even more testing at the state level, which focuses on climate, plants, soils, and other details that are particular to that state. Newly hired landscape designers are enlisted to apprentice or intern until they can qualify for licensing after one to four years of work experience.
Continuing education classes are often required to maintain a state landscape architecture license. Obtaining a national license can be useful for gaining a reciprocal license when moving from state to state; national licensure requires passing the LARE and working for three years under a licensed landscape architect. Students should verify their state's licensing requirements before enrolling in a landscape architecture degree program to ensure that their degree will qualify them for licensure.
What Students Will Learn in an Online Landscape Design Program
People who earn degrees in landscape design or landscape architecture are responsible for the planning and implementation of space for public use. This space typically includes gardens, parks, and recreational areas—some of which may also be for private use, such as that of a particular university. These professionals work in conjunction with traditional building architects to discuss environmental concerns and other factors pertaining to the construction of landscape architecture.
Most landscape design programs will require students to complete an internship in which they work for a company with a licensed architect or landscape architect to gain supervised, hands-on work experience. In most instances, degree programs in landscaping design seek to involve students in actual landscaping projects, which may require them to work in a physical location and utilize various aspects of computer-aided drafting, video simulation, and geographic information systems.
The following courses are often part of the curriculum in a landscape design degree or certificate program:
Computer Aided Drawing (CAD): Students will learn the fundamental and advanced skills needed to develop construction documents that incorporate layouts, grading, lighting, and planting plans.
Environment and Natural Systems: Students will examine the methods used to design landscapes with regard to natural systems and elements, landscape ecology, and sustainability.
History of Landscape Architecture: This course will allow students to explore the cultural relationships humans have had with landscapes, from ancient civilizations to the 20th century.
Human Factors in Landscape Architecture: This course teaches students about the ways in which people interact with their outdoor environments and focuses on settings such as urban plazas and other pedestrian areas, using design to enhance privacy and safety, and the cultural and social aspects of outdoor spaces.
Plants Form and Function: A combination of lecture, planting exercises, and research study will help students learn about the processes of conceptualizing, developing, and implementing plant designs.
Career Specializations for Landscape Design Graduates
Source: www.guidetoonlineschools.com
Share this Post