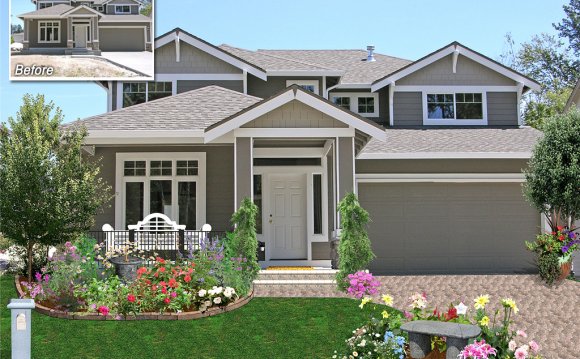 Edraw is an easy to use 2d landscaping design software that allows homeowners to plan their landscapes simply.
Homeowners can use it to create home plans, design living and dining rooms, kitchen, kid's rooms or master bedroom. It breathes new life into your design and guide you to create decks, patios, fencing, edging, lawns, custom decks, and more. However, whether you are new home owners, landscape architects, or just gardening enthusiasts, this program stands out as a handy tool for you. What is more, our software is more affordable and has more functions than other programs. Now, you can actually say goodbye to graph paper and colored pencils.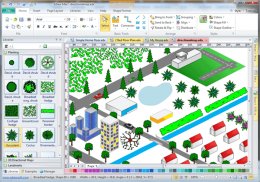 Discover the power of Edraw as the superior choice to design your landscaping: Try it FREE.
The bright, user-friendly interface is a snap to understand. The in-depth tutorials quickly bring you up to speed. Operating the program is equally effortless. You simply drag and drop diverse floor plan symbols like shrubs, trees, flowers, buildings, paving, and ponds into a large grid and lay them out as you prefer. You can change the foliage color and zoom in or out on your garden.
System Requirements
Works on Windows 7, 8, 10, XP, Vista and Citrix
Works on 32 and 64 bit Windows
Works on Mac OS X 10.2 or later
Benefits of the Landscaping Software
Landscape drawing does not need to start from scratch. Just drag the ready-made symbols from the libraries and drop them on your page. Landscaping design couldn't be easier! You don't need to be an artist to look like one!
2. Common Graphic Format Support and WYSIWYG (What You See Is What You Get) Printing
These features enable you to capture and present information in pictures, while being a pleasure to use.
Zooming, scrolling, multi-selection and multi-level undo/redo supported. No artistic skills are required. Automatically aligns and arranges everything so your drawings look great.
Distinct colors, fonts, shapes, styles, pictures, text and symbols for each object of the diagram are available.
Landscaping Software Highlights
Easy-to-use landscaping design tools with rich examples and templates.
Great value for the money.
30-day product refund guarantee.
Free update forever.
In-depth tutorials to help you learn to draw network diagrams.
Design Landscape in 3 Easy Steps
Step1: Choose a template. We have multiple templates you can choose from
Step 2 Visualize your design. Drag and drop shapes, move, resize or recolor them.
Step 3 Publish & Share. Use our one-click share buttons or export your work into various formats to post it online or send it to others
Source: www.edrawsoft.com
Share this Post