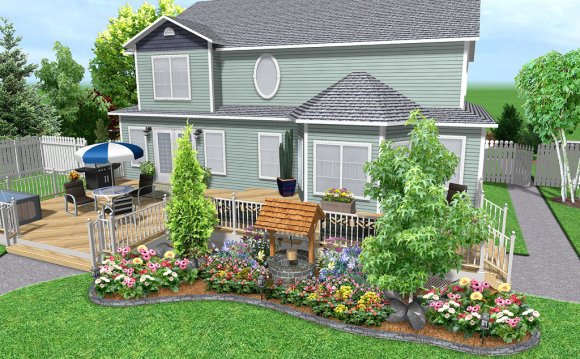 Spectacular landscape designs made easy with iScape Free!
We have been featured in Home and Garden Shows, and mentioned in many of the top publications across the globe. Here are a couple quotes to view below:
• When you're planning a new garden, or considering a change to an established one, it can be difficult to visualize the results. This is where iScape comes in handy. - "The NY Times"
• If you're DIYing it, iScape makes it easy to plan out what to buy and how to put it all together. If you're hiring a landscaper, the app can help you explore ideas and share your vision. - "Forbes"
Would it not be much better to see the outcome of a landscape project before the work is done – and most importantly, before the money is spent? That's where the iScape App comes into play! As we all know, sometimes it can be very hard to relay your vision when it comes to gardening. With our landscape design app you simply take a picture of your house, insert some of your favorite gardening plants, and start watching your dream landscape come to life right at your fingertips! It's great for landscape pros, and easy enough for the Home-Owners to create professional looking landscape designs.
iScape's image database provides you with real plant images that offer a wide variety of gardening and outdoor options. Which type of mulch would look better here? Where should this Tree be placed? Will it even"match" my overall design? With all of these options at your fingertips, your very own 'oasis' will come to life. Get to work with iScape!
***Please Note: iScape Free's database is limited, but gives you an opportunity to test drive the paid version at no charge. Upon user requests, we have provided individual categories available as In-App Purchases in case you do not need the entire iScape Database. If you are going to purchase multiple categories, please note that upgrading to the paid version is the better deal.
It was very important for us to make iScape Free user-friendly enough for everyone. Well, we have achieved just that! Our users have reported that even their kids have fun using it and taking part in designing their new yard. If your kids enjoy to color and paint, or just like to be creative they will love it.
With an all new redesigned interface for the iPad and iPhone, the experience is incredible with the HD resolution and the updated features.
• Use the "Camera" to take a new picture, or access the device's photo library to choose your background image.
• Use the "Pen Tool" to add or replace textures (Ground-covers) such as grass, beds, pavers, etc.
• From there you can "Insert Objects" such as flowers, trees, stone walkways, patio furniture, etc.
• Double tap any image to bring up preferences which include Delete, Lock, Scale, Duplicate, Flip, Move to Front, and cancel.
• Save and Share your design via FaceBook, email, or Print.
• Now when you email a design, it automatically generates a list containing all products in your design
We really hope that you enjoy iScape Free. We are continuously striving to make our apps better and better. Please do not hesitate to contact us with any feedback and/or questions @ The user feedback has made a tremendous impact with iScape's development and we greatly appreciate it!
Source: itunes.apple.com
Share this Post