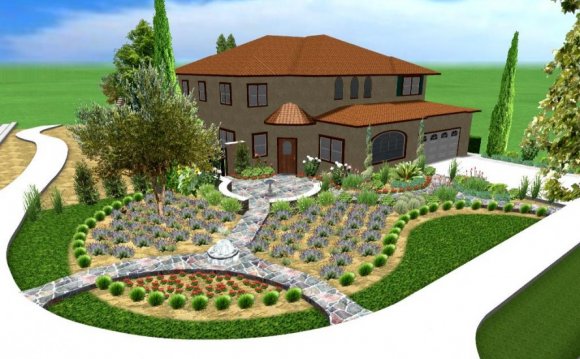 A Backyard For Kids / Children
A really cool backyard landscape design with play area, sand box, tricycle trail, outdoor kitchen, dog run area and more. A very universal plan whether you have children or not.
Landscaping A Big Estate
The largest residential yard we've done so far. A very clean design with a lot of ideas for landscaping different areas of the yard. This design includes a segment specifically for backyard, front yard, and swimming pool.
Backyard Xeriscaping Plan With Natural Stone Walls
We used native locally grown limestone rocks to create a dry stack wall for this multi level design. This is a very natural looking free flowing backyard landscape that will go well with almost any Southwest style home.
Big Front Yard In A Cul-De-Sac
A very large front yard design at the end of a culdesac street. A lot of good design ideas and tips for shape, plants, and planting.
Curb Appeal On A Corner Lot
This design uses a lot of different elements to give it its unique design, atmosphere, and appeal. There's also fake dry river bed to help drainage on the curb corner. Very unique design idea.
Southwest Yard Design Plans
This is an example of a southwest, Santa Fe style front yard landscape. We used a lot of free curves in this design which gave the illusion of even more space.
Long Narrow Front Yard
A small lawn and retaining wall on a sloped lot help make this Mediterranean yard very appealing.
Shady Garden For Long Narrow Side Yard
Most yards are unique in shape and character. In turn, odd shaped yards can be quite a challenge to landscape. This design may hold some ideas for you if you're dealing with a challenging project.
Shady Culdesac Front Yard
This design is of an odd shaped front yard in a cul-de-sac combined with extreme shade. A fairly plain and simple plan with a few good tips for shape, materials, and plants.
Southwest Xeriscaping Square Front Yard
Here's yet another Southwest xeriscape. This is a very simple free flowing design for a square yard. As you'll see in this plan, it's the type of plants used and not the design shape that give this yard its Southwest flavor.
Small Xeriscape Front Driveway Design
This Southwest xeriscape landscaping idea uses a lot of different elements to create color and contrast even in Winter months when there are no plants growing.
Sunken Backyard Patio Ideas
These pictures show how we created a sunken brick patio and small garden out of an old unused inground swimming pool. Not many people will do this with an old pool. However, regardless if you have a pool, there are some great landscaping ideas here for how to build a sunken patio garden.
Again, in order to get the most out of these plans you may want to keep a few things in mind while going through them.
Mix And Match Design Ideas and the different shapes of different designs and layouts. If you can't find a layout to fit your exact front yard or backyard, find two or more that you can incorporate together to create a plan that will work.
Don't get hung up on specific materials, hardscapes, and plant materials that we use in these yards and gardens. Focus more on shape and functionality. The materials will be determined mostly by what is available in your area.
These Landscaping Styles can work with other styles. If one of our layouts is for a Mediterranean front yard, don't think that you can't use it for a Southwest home, different style, or even a backyard. Sometimes simply changing the types of plants is all that's necessary to change the entire atmosphere and style of a design.
More Pictures, Ideas, And Design Resources
Hundreds of design ideas from some of the best designers off and online. Take time to check out this directory when you're finished here.
Source: www.the-landscape-design-site.com
Share this Post