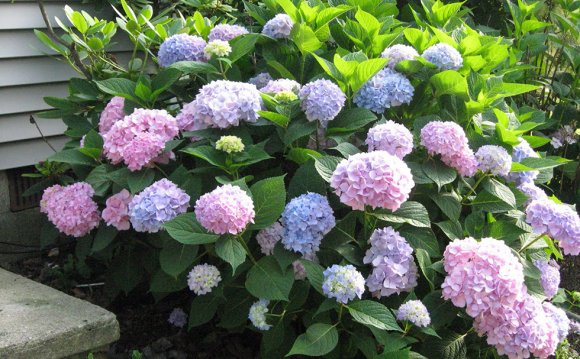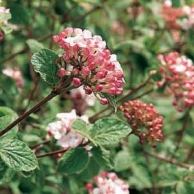 Native to Georgia, Florida and Mississippi
Oakleaf hydrangea (Hydrangea quercifolia) is a shrub for all seasons, with large, showy cone-shaped flower clusters in early summer, outstanding fall color and handsome cinnamon-colored, flaking bark in winter. This widely adapted plant grows upright from 4 to 6 feet high with an equal or greater spread. Plant this graceful shrub in groups or intermingled with other shrubs in an informal setting. Give it moist, well-drained soil in full sun to partial shade. Deciduous, hardy to -20°.
Award-winner in the Rocky Mountain and Plains States
Fountain butterfly bush (Buddleia alternifolia) is a spring bloomer with lilac flower clusters along gracefully arching stems. The billowy plant can grow to 10 feet high and wide. Use the shrub as an accent plant or in a mixed shrub border. It prefers a sunny location in any well-drained soil and can tolerate drought. It dies back to the ground in the coldest reaches of its adapted area, but resprouts from the base and blooms on new wood. Deciduous, hardy from -20° to -30°.
Good Choice for the Great Plains, Northwest and Midwest
Korean spice viburnum (Viburnum carlesii) has intensely fragrant white flowers in spring that open from pink buds; blue-black fruit follows in early summer. The shrub reaches 4 to 8 feet high with upright, spreading branches that extend to 8 feet wide. Use this dense, rounded shrub as a foundation plant or locate it near paths and entryways to enjoy its intoxicating fragrance. Provide well-drained, slightly acid soil in full sun to partial shade. Deciduous, hardy to -20°°.
At Home in California and Florida
Heavenly bamboo (Nandina domestica), with unbranched vertical stems up to 7 feet tall, has a feathery texture, creamy-white summer flowers, scarlet fall fruit and brightly colored foliage throughout the year. The compact leafy shrub shown right, called 'Nana' or 'Nana Purpurea, ' is dome-shaped and 1 to 2 feet tall. Depending on variety, use heavenly bamboo as a ground cover, accent plant or in mixed plantings. The shrub adapts to a wide range of conditions but prefers moist soil in full sun (afternoon shade in the hottest areas). Evergreen to 10°, hardy to -10°.
Grows Best in Southern Gardens
Loropetalum (Loropetalum chinense) is a neat plant with subtle beauty in its arching, tiered branches and spidery white or pink spring flowers. Depending on variety, it grows 3 to 10 feet tall and just as wide. The variety 'Rubrum' ('Razzleberri'), shown, has purplish leaves and bright rosy-pink flowers. Plant loropetalum in foregrounds and woodland gardens. Provide well-drained, nonalkaline soil and ample moisture. It prefers full sun in foggy coastal areas and partial shade inland. Evergreen, hardy 0° to 10°.
Best in Midatlantic, Midwest, Northeast, and Southeast
Bottlebrush buckeye (Aesculus parviflora) stands out for its large white summer flower spikes and bright-yellow fall color. This deer-resistant buckeye, which spreads by suckers, needs plenty of room to grow; it reaches about 12 feet tall with an equal or greater spread. It's a good choice for massing or shrub borders, and it makes a nice specimen plant. Provide moist, well-drained soil in full sun or moderate shade. Deciduous, hardy to -30°.
Native to Southern Canada and the Eastern U.S.
Black chokeberry (Aronia melanocarpa) is a tough, 3- to 5-foot-tall shrub with small, white or pinkish flowers followed by shiny, black 1/2-inch fruits. Fall color is bright red-purple and lasts for several weeks. Use this somewhat leggy shrub as a filler or in background plantings. This widely adapted plant tolerates extreme cold, a variety of soils and exposures, and thrives on much or little water. Deciduous, hardy to -40°.
Good for the Northeast, Midwest, and Pacific Northwest
Summersweet (Clethra alnifolia), one of the few summer-blooming shrubs that flower in the shade, is prized for its fragrant white or pink flowers. Handsome dark-green leaves turn pale yellow to golden in fall. The plant typically grows 6 to 8 feet tall and spreads slowly by suckers to form dense clumps. The dwarf, white-flowered variety 'Hummingbird, ' shown left with pink-flowered 'Ruby Spice, ' grows 3 to 4 feet tall with an equal spread. Plant summersweet in borders and shade gardens or use 'Hummingbird' as a ground cover. It's a good plant for heavy shade and wet areas in acid soil, and it withstands coastal spray. Deciduous, -40°.
Right for the Northwest, Midatlantic and Northeast
'Pallida' Chinese witch hazel (Hamamelis mollis 'Pallida, ' also called H. intermedia 'Pallida') is valued for vivid fall foliage and ribbonlike fragrant, sulfur-yellow flowers that bloom on bare stems February through March. It's a broad, spreading shrub, 8 to 10 feet wide or more. This plant makes a striking accent, especially in a woodland setting. Its bright flowers contrast nicely with evergreens or a solid backdrop of brick or stone. Plant it in partial shade and slightly acid soil high in organic content. Deciduous, hardy to -20°.
Maine to Iowa, South to Florida and Louisiana
'Annabelle' smooth hydrangea (Hydrangea arborescens 'Annabelle') produces enormous, foot-wide clusters of white flowers on a plant about 4 feet high and wide. Flowers last for up to two months during summer; if spent flowers are removed it often reblooms. This shrub is perfect in groupings and does best in moist, rich, well-drained soil in light to moderate shade. If cut back to the ground in autumn, it flowers on new wood the following summer. Deciduous, hardy to -30°.
A Favorite in the South and California
India hawthorn (Rhaphiolepis indica) is a compact, rounded shrub with glossy, leathery leaves and a profusion of flowers ranging in color from white to pink; they bloom from late fall or midwinter to late spring. The plant grows 3 to 4 feet high and slightly wider. It does best in average, well-drained soil in full sun, though it tolerates drought and salt spay in coastal regions. Group plants for a low divider, informal screen or high ground cover. Choose from several named varieties. Evergreen, hardy to 10°.
A "Gem" for West Coast Gardeners
'Wynyabbie Gem' westringia (Westringia fruticosa 'Wynyabbie Gem') withstands salt-laden coastal wind and resists drought. The bushy shrub, to 4 feet tall and wide, has narrow, silky gray-green leaves and produces clusters of mauve-pink flowers throughout the year. Use it in mixed plantings, or as a low screen or feature plant. It prefers light, well-drained soil and full sun to light shade. Evergreen, hardy to 25°.
Excellent Choice for the Midwest and South
Burkwood viburnum (Viburnum burkwoodii) grows 6 to 12 feet tall and 4 to 8 feet wide. In late winter to early spring, spicy-scented white flowers open from dense, 4-inch snowball-shaped clusters of pink buds. Dark-green lustrous leaves turn purplish red in cold weather. Plant this shrub in well-drained, slightly acid soil. It tolerates some drought once established. Use the shrub as an informal screen or grouped in a mixed shrub border with evergreens. Partially evergreen, hardy to -20°.
Native to the Southwest and Northern Mexico
Texas ranger (Leucophyllum frutescens) is naturally adapted to desert heat, wind and drought. The shrub reaches 5 to 8 feet high and 3 to 5 feet wide. In hot weather, the silvery or green foliage (as on 'Green Cloud, ' shown) is accented with purple bell-shaped flowers. Use this shrub in rock gardens, on slopes or as a screen. It grows best in full sun and needs no supplemental water. Evergreen to partially deciduous, hardy to 5°.
Source: www.thisoldhouse.com
Share this Post