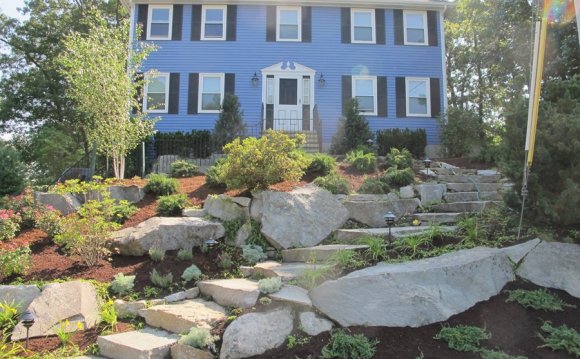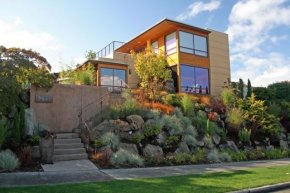 2. Create Interesting Access with Hardscape
When the only access to your front door is directly up a slope, this can pose a challenge for visitors. To ensure that people can easily and safely find their way up a slope it is important to install a paved path. In the case of this Massachusetts home, reclaimed granite stones were used to create steps that traverse the hillside.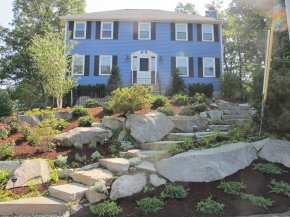 Not only does the granite path provide access, but it also adds visual interest and breaks up the slope, making it appear less imposing.
3. Use Terracing to Create a Grand Entrance
A common solution for slopes is to terrace them into multiple levels. However, front yards are typically more about curb appeal and less about functionality, so you don't have to worry about creating level areas of usable space. For this home, the yard was terraced to create an inviting entrance. Two sets of stairways flank a central fountain that serves as a focal point.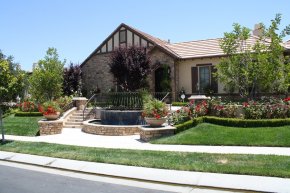 This terracing solution is more about creating a look rather than creating space. A variety of trees and plants add to the overall effect of the design.
4. Install a Retaining Wall for Downward Slopes
On properties that sit below street level, slopes can be especially problematic. In a situation like this the main concerns are access and drainage. For access you'll want to make sure there is a safe set of steps and for drainage you'll need to make sure that runoff from the slope is not damaging your home.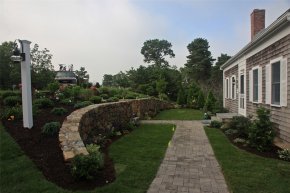 In this example, a retaining wall was used to support the slope and level out an area in front of the home. The design of the wall channels water away from the home and allows it to filter back into the ground before it reaches the foundation.
5. Stabilize a Gentle Slope with a Lawn
If your front yard has a gentle slope you may not need to take any drastic measures. As shown here, a slight slope can often be corrected with minimal grading and the planting of grass. Once established, the roots of the grass will work to stabilize the soil and hold it in place. However, keep in mind that it is more difficult to mow a lawn on a slope versus a lawn on flat ground. This approach will work in most neighborhoods as long as there is sufficient city drainage along the streets.
Source: www.landscapingnetwork.com
Share this Post