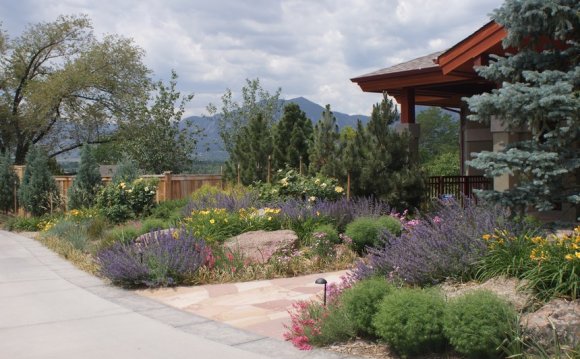 Colleen, owner of Bloomin' Landscape Designs, has a love for gardening that goes back to childhood when she spent hours of time roaming her grandmother's beautiful gardens in Idaho. Colleen loves to spend time in her own one acre garden. That time has helped her develop an appreciation for precious moments in the garden without every moment being spent doing maintenance. She wants you to have a similar experience in your outdoor environment. Colleen's goal is for you to spend relaxing and pleasurable hours in your outdoor areas. No matter how large or small your project is Colleen can create intriguing outdoor spaces for you that reflect your individuality and be a place you truly enjoy.
For more than 16 years Colleen has been designing. She began in the commercial landscape world and soon realized that her passion was to design outdoor havens for the homeowner. After getting a horticulture associate degree she established her residential landscape design business Bloomin' Landscape Designs in 2003. With an eye for detail and a zeal for gardening Colleen works with her clients to make their outdoor spaces something they could only dare to imagine.
Colleen enthusiastically serves her clients as well as the landscape industry. Simultaneously with the start of her business Colleen began building networks of landscape professionals working together and founded the Sacramento District of APLD. Her resume never stops growing as she became an APLD nationally certified landscape designer in 2011.
President Sacramento District, Association of Professional landscape Designers 2004-2006
President California Chapter, Association of Professional Landscape Designers 2008
Board member of the national Association of Professional Landscape Designers 2009 to present
Adjunct professor for Sierra College Community Education, 2 classes each semester
Horticulture Advisory committee member for American River College
Coordinator with Ralph Richardson Center (San Juan School District serving children with a handicap) to create a child-friendly, hands on garden.
Member California Landscape Contractors Association
Member Satatoga Endowment Advisory Committee
2011 - APLD Certified Landscape Designer
Source: www.bloominlandscapedesigns.com
Share this Post