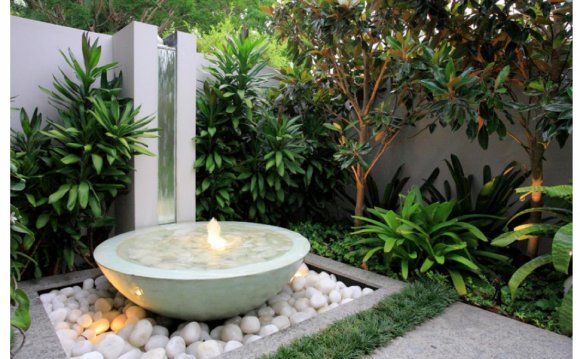 Water has a compelling quality and can bring light and life to the most limited of spaces. It is both versatile and predictable (the latter being something that plants are not), and lends itself to being contained within an architectural setting. An area of water, however styled, should be treated as an integral part of the garden's pattern, and its dimensions should be considered in relation to the height of surrounding boundaries.
Obviously, space will inhibit the quantity of water that can be included in a small garden. However, water can easily be incorporated into some sort of water feature, and if ground space is very limited, it need not necessarily be one that is horizontal; for example, consider the use of falling water. The effects you can achieve range from the merest trickle from a wall spout to a vertical wall of water. Though water can be cold and depressing, if used properly, it will always be eye-catching or even mesmerizing.
A very significant factor that few consider is that the running, splashing, or trickling of flowing water, as well as being visually pleasing, can help to block out urban noise. On a hot day, the sight and sound of gently running water will have a cooling effect too.
An area of still water at ground level in a garden creates a mirrored setting for surrounding features. A dark internal lining at the bottom of a pool of water will intensify reflections further, whereas a light-colored glazed tile finish will reduce them. The latter treatment will tempt you to look into the water's depths, rather than its surface, adding yet another dimension to your garden space. Sunlight playing on the surface of still water produces a Hockney-like, cellular pattern and, if near a building, a reflection rather like light dancing on a ceiling.
Flat planes of water can also act as a foil for planting, either in the water or adjacent to it, such as reeds and water lilies or overhanging blossoms. This is a way of linking part of your garden's ground pattern to three-dimensional plant forms.
If plants are used in association with moving water, a fountain or water splash, for instance, the relationship between structure and planting becomes more vibrant. Planes of water can be contained at different heights to create a visual relationship between the ground plan and the boundary. The focus of interest can be water flowing from one plane to another, or the "New York plaza" effect can be created, obviously on a small scale, by allowing it to form a waterfall down a wall.
Water can also be used as sculptural decoration within a basic layout, rather than as an integral part of the garden's structure. Because water has such a compelling quality, it is important that a water feature intended as decoration is contained within a strong garden design plan to prevent it from dominating the entire scene. Water can be used as sculptural decoration in the form of a wall splash or alternatively in a dynamic arrangement of water-filled containers, either free-standing or interconnected.
Natural-looking pools of water usually appear out of character in tight urban spaces. However, the Japanese water garden's rather mannered approach to wildness is more sympathetic to urban locations than the soft-edged garden pond, which only suits truly rural settings.
In the main, unless extremely well-designed and crafted, the simpler the use of water in a small space, the more effective it will be. A tiny courtyard in the South of France comes to mind, in which there is a shallow pool, with a pattern of fish modelled in the tiles that line it – so simple, but constantly compelling. The water must be sparkling clean for this sort of effect, and this means excellent maintenance. There are many water-cleaning devices on the market, of varying sophistication – their installation requires specialist advice.
Source: www.hgtv.com
Share this Post