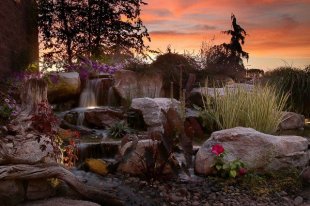 Pondless waterfall design ideas are getting more and more popular among homeowners as they are a practical way to add a beautiful water feature and enjoy the soothing sound of running water even in a small backyard.
The calming sound of water has a relaxing effect on people and a beautiful landscape and scenery enhance the effect of the waterfall.
What is a pondless waterfall? How pondless waterfalls function? What are the pros and cons of pondless waterfalls and how to build a pondless waterfall in your garden – we shall give you the answers of these questions and you will be able to enjoy some fascinating designs and get inspired to landscape a perfect backyard retreat.
As the name suggests, pondless waterfalls, also known as "disappearing waterfalls" are water features designed on the principle of circulating water with or without a stream. The water runs over stone and disappears into a reservoir covered by a bed of gravel or stone. Water is recirculated with the help of a pump. Pondless waterfall design ideas are suitable for small gardens where the limited space makes it impossible to have a garden pond or when you do not wish to have a pond. In addition, a pondless waterfall can be arranged on a balcony, on a rooftop deck or anywhere else.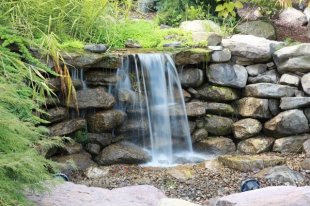 Waterfalls are an impressive feature of the landscape design and you can combine different elements – rocks, wood, plants in the scenery to create the dream garden which will reflect your personality and provide a lovely space outdoors to enjoy with family and friends.
Pondless waterfall design ideas – pros and cons of pondless waterfalls
Pondless waterfall design ideas feature modern materials, diverse styles and appearance. You can choose a natural style and integrate the waterfall into the surrounding environment or opt for a more classic design with symmetric look.
One of the main advantages of pondless waterfalls is the minimum space that they require. Unlike other water features, they do not need complex filter systems which means that the maintenance costs are lower. Pondless waterfalls are much safer for children and pets as there is no hazard of drowning. The homeowner can stop the pump at wish as it is not required to work 24 hours a day.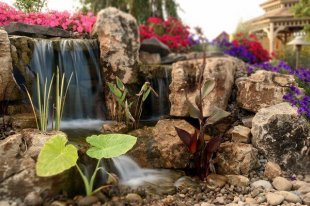 How to build a pondless waterfall?
Depending on the design you can build a pondless waterfall by yourself as a DIY project but if you have chosen a bigger and complex design, it is better to use professional help. However, here are some simple steps that will guide you and help you in the construction process.
Choose the place for your pondless waterfall. It is best if you arrange it on a hill as gravity and natural drop will make it easier for you. To avoid overflowing, you need to dig a large enough pit for the water volume.
Dig the water path and use pond rubber and landscape fabrics. Check if the top layer of fabric folds back over the pump vault/drain pipe and allows water to pour in the pit.
Decorate with landscape rocks. You can buy decorative rocks or find them right in your garden which is the better option as it will save you money. Add landscape lighting to give your pondless waterfall a beautiful glow during the evening. Plants will add the finishing touch to the appearance and you can also use them to add pops of color. You are ready to enjoy the pondless waterfall in your backyard!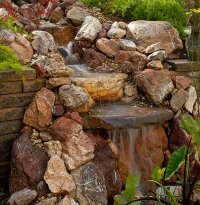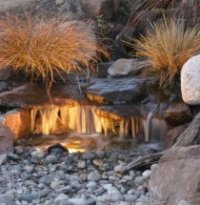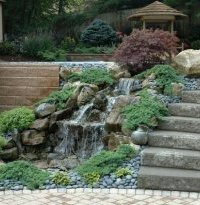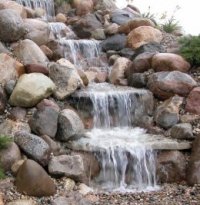 Source: www.minimalisti.com
Share this Post