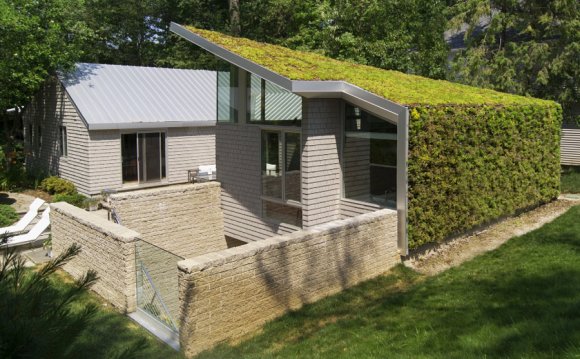 What is it about garden rooms that is so universally appealing? We're getting excited just thinking about the prospect of a secluded little spot somewhere - outdoors yet sheltered; removed from the house, yet familiar. We would even go so far as to say there is something rather primal about having a little space in the garden to retreat to. Whose first decorative instinct wasn't to go outdoors and build some kind of den? On a more fundamental level, to sit and eat outside is one of summer's greatest pleasures. Don't let temperamental climate spoil your plans. Come and be inspired by these garden rooms that offer the best of indoors and out.
Quick Notes
Planning permission:
Slightly different rules apply in different parts of the UK. A general rule of thumb is that you won't need planning permission for an outbuilding with a maximum eaves height of 2.5 metres and a maximum roof height of four metres with a dual pitched roof. Even so, a structure that might not require planning consent in one set of circumstances might need it in another - for example, if your house is listed, you'll need listed-building consent, and similar strictures can apply in a conservation area or an AONB (Area of Natural Beauty). Whatever you are building, it's always worth consulting your local planning officer first. For England, a good place to start is the government's online Planning Portal, which offers quick and easy advice. The rules are broadly similar in the rest of the UK.
Insulation:
It's best to choose a garden room that has insulation in the floor, walls and roof - some of the cheaper log-cabin designs don't have wall insulation. Look for the U-value of the wall build-up, which most insulation suppliers will list on their specification. The lower the figure - measured in W/m2 - the more effective the insulation.
Power:
Garden rooms generally come pre-wired with a good number of sockets and lighting. Many suppliers will also offer the option of exterior lighting, audio-visual cabling and data cables. One grey area is who is responsible for connecting the room to the mains supply. Some suppliers will include this service in the price, while others ask you to organise and pay for it once the building is finished. Prices will vary depending on the distance of the garden room to the mains supply, but you should allow a budget of up to £1, 000. All electrical work must comply with current building regulations.
Heating:
Not all suppliers include a heating source in their specification, but however well insulated your building is, it's nice to be able to turn on a heater on colder days. Underfloor heating is a popular option, as are air-conditioning units offering heating in winter and cooling in summer. More basic options include wall-mounted electric convector heaters or portable oil-filled radiators.
Plumbing:
Buyers are increasingly incorporating loos, showers and kitchenettes in their designs. This can be where planning permission gets more involved. Most bespoke designers will be able to offer customers conventional solutions, which tap into the mains sewerage, or off-grid solutions such as composting toilets. As with any electrical work, the plumbing must also comply with current building regulations, whatever the size of the building.
Source: www.houseandgarden.co.uk
Share this Post