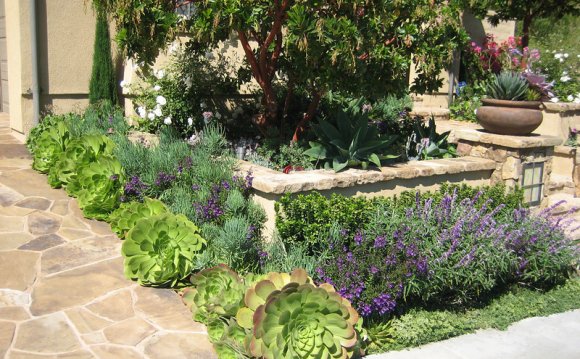 Homeowners Terese and Grey Truex have a love/hate relationship with their backyard. They love the size of it, but they have no idea where to begin in designing the space. Right now, it's a mish-mash of materials, and they want a more cohesive look. Landscape designer Lisa Wheeler creates a warm and social space complete with a new flagstone patio, wine barrel seats and a cement sofa.
Since the couple loves Italy, landscape designer Lisa Wheeler creates a Mediterranean garden. A flagstone patio adds a rustic vibe and an entertainment center to the yard. The newly built redwood arbor is covered with climbing vines to add to the old world feel. In addition, it helps contain the space and creates an outdoor space. For a unique touch, they build an outdoor sofa out of concrete and redwood into the retaining wall.
After moving into their home four years ago, the couple is now ready to tackle the backyard. With two young boys, it's essential to have spaces to play. In addition, they love to throw parties, so they want areas for entertaining.
A cool water feature is built out of a wine rack and some wine bottles, and they design a fun space around the tree. A few extra pieces of flagstone create a natural path to the tree, and wine barrels in various heights are perfecting for their active boys. Colorful Mediterranean plants and a new lawn are the finishing touches to the garden.
Source: www.hgtv.com
Share this Post