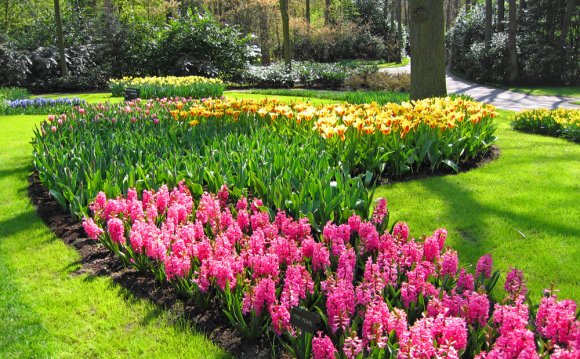 You may think that enjoying a meal and a glass of wine in dappled sunlight surrounded by birdsong and scented flowers is a luxury, but the smallest city space can be transformed into a green idyll and there is room for a small tree in the tiniest garden.
Plants are particularly important in our densely populated urban areas. They soften the hard lines of city landscapes and lift people's spirits with their living colour, scent and movement. Planting hedges, shrubs and trees helps cut down noise from traffic (and neighbours!) and also attracts all sorts of birds and insects that are otherwise struggling to find habitats. With a bit of effort anyone can create their own little bit of heaven.
My interest in gardening became an obsession after my partner and I bought a terraced house in Cardiff 20 years ago with a south-facing garden. The main area was tiny – about 14ft wide by 30ft long, bounded by 5ft high stone and brick walls with uneven ground and a fine crop of weeds. The space has gradually been transformed and is now a leafy and private paradise with a wildlife pond and a small dining area.
The garden is a source of inspiration for my paintings as well as a sanctuary and a playground for our cat! I love to sit out there with a book and the scent of the flowers and enjoy the last rays of evening sunshine. Using my own experience I have set out some ideas, guidelines and tips on creating your own garden haven.
What would you like your garden to be?
First of all you need to decide what you want your garden to be – a peaceful place to relax after a days work, a wildlife haven, a place to entertain friends and family or all the above. Do you like hands on gardening or would you prefer it to be low maintenance? Do you need to consider the needs of children, pets or the disabled?
All these things will have an impact on how you design your garden.
A garden pond
When thinking about what to do with our small space, we wanted to attract wildlife and decided to put in a pond. Having dug down to make a hole big enough to install a moulded fibreglass kidney-shaped pond we found a WW2 air-raid shelter which took some work to dig out! Having removed most of the bricks and corrugated iron we put down a thick layer of sand to cushion the fibreglass and made sure the pond was level before filling with water. Pieces of granite found in the garden were cemented around the pond to hide the edge. After a few days the water had settled and we added oxygenating plants, a dwarf water lily and a couple of irises. Wildlife will soon start to colonise your pond and birds will be attracted to drink and bathe. If you know someone with an established pond you could ask for a small bucket of water in order to introduce pond life more speedily, but make sure you don't introduce anything you might regret later. It's a good idea to provide something – sticks or stones – to help non-aquatic creatures to climb out if they fall in!
Designing your Garden
Once you have decided what elements to include in your garden, and taken all the practical considerations into account, you can sketch out where you want your beds, paths and hard surfaces. If you can, mark out these areas with a length of hose or sand in a bottle. If you are planning a seating or dining area make sure there is enough room for the garden furniture. Consider adding verticals such as arches or small trees, where
In a small space you need to make the most of every available surface. Think about planting walls with plants such as saxifraga and campanula. Primroses have naturalised everywhere in the garden providing lovely scent and colour in April. If a plant really likes your garden (and you like the plant!) go with the flow.
Choosing plants
My garden is on the coast of South Wales in UK - an area with fairly mild winters and wet summers. Choose plants that are suitable for your particular climate, as well as taking sun, shade, water, wind and dry soil into consideration and you will be rewarded. A lot of plants will tolerate any sort of soil but some are more demanding and in order to avoid disappointment it is best to do a soil test to gauge acidity and work out whether you have sandy, gritty, chalky soil which is free-draining or heavier clay soil which can be prone to water-logging. Whatever you have got there will be plants that love those conditions, although areas of deep shade can be challenging. If the soil is very poor you might want to improve it by adding organic matter or topsoil. We have clay soil which can get water-logged but on the other hand retains a lot of plant nutrition which can get leached away in sandy, gritty soil.
Use evergreens and trees as the bones of your design to give a permanent structure around which you can add your flowering perennials, bulbs, grasses and ground cover.
Those of you who want a low maintenance garden could choose slow growing shrubs and evergreen plants rather than perennials that need cutting back and dividing regularly, or roses that need regular pruning, feeding and dead-heading.
When choosing plants here are some things to think about:
Evergreen plants add structure and interest all year round
Seasonal interest from flowers, foliage, bark and berries
Texture – varying the types of foliage makes for textural interest.
Scent – use scented plants around a seating area and near the house.
Plants in containers can be used to fill areas with colour when needed and removed when not flowering. Window boxes and hanging baskets allow more colourful planting areas at height.
Wildlife – by using plants such as lavender, scabious and Echinacea and avoiding some of the fancy "double" flowers you will attract more butterflies, bees and other pollinators. If you leave an area untouched, (behind the pond in our garden), it will give insects and amphibians their own little sanctuary.
Fruit and Vegetables – from herbs in pots or paving to a specimen fruit tree or growing peas and beans on a wigwam, there are many options. The latter are great for children to try out their green fingers on.
Trees – However tiny the space I believe there is always room for a small tree – perhaps a native tree – to add height, privacy, interest from bark, foliage, fruit or flowers, and a habitat for birds and insects.
Plants used in my South-facing garden
Here is a list of some of the key plants I have used in my garden, pictured here:
Evergreen
Pittosporum tenuissifolia "Irene Paterson"
Olea europea – European Olive
Hebe "Pascal"
Ilex "Silver King"
Clematis armandii "Snowdrift"
Buxus sempervirens – common box
Viburnum davidii
Camellia -single red
Mahonia x media "Winter Sun"
Sub-shrubs
Lavandula angustifolia
Lavandula angustifolia "Hidcote"
Perennials
Heuchera "Palace Purple", "Rio", "Pewter Moon" and "Marmalade"
Athyrium niponicum pictum – Japanese Painted fern
Lysimachia ciliata "Firecracker"
Lobelia "Hadspen Purple"
Ophiopogon planiscapus "Nigrescens" - Black Lily turf
Festuca glauca
Anemone "Honorine Jobert"
Sedum spectabile
Iris – various, including Kaempferi and laevigata "Variegata" in pond.
Agapanthus
Dahlia "Nuit D'ete"
Rosa "Cardinal de Richelieu"
Rosa "Radio Times"
Summary
Gardens are continually changing – that is part of their beauty. When you step out into your garden there will always be something new to marvel at. Some plants outgrow their space and some die because they are short-lived or not happy – I always see this as an opportunity to search for just the right plant to replace it! There is something so rewarding about making a garden and enjoying the fruits of your labour. Have fun creating your own private paradise and watching it evolve.
Source: dengarden.com
Share this Post