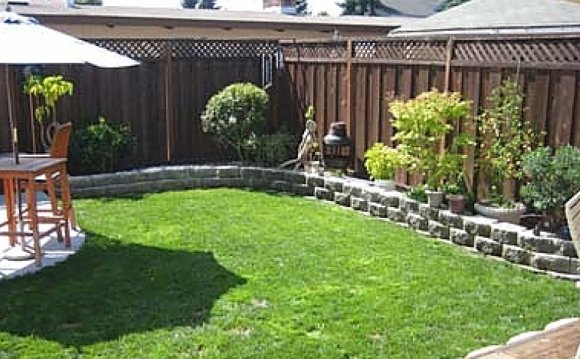 Landscaping can make the difference between a drab backyard and a little corner of paradise. But random plantings in your spare time could lead to a patchwork of styles that don't come together. The key to a professional-looking landscape is careful planning, from choosing a focal point to researching which trees and flowers thrive in your area. Landscape architect Maureen Smith shares each step of the process.
Choose a Focal Point
The first step is to choose a focal point for your backyard. It could be a pool, gazebo or flowering tree — any element that is large and attractive enough to anchor the rest of the landscape. If you are building a patio, pergola or other hardscape feature, the construction should be finished before you begin landscaping.
Make a Landscape Plan
Once you have chosen a focal point, make a landscape plan using drafting software or paper. Draw the hardscape features first, then think about the style — do you want jungle-like landscaping, formal gardens or a minimalist look with pebbles and a few specimen plants?
As you draw your layout, note the specific plants you intend to use. Consider how much sun each area gets and research which species thrive in your hardiness zone. Drive around your neighborhood for ideas. A shrub that is thriving in a sunny spot in your neighbor's yard will likely do well in a sunny spot in your yard.
If you are unsure of which plants to use, consider hiring a professional landscape architect to draw up your plan. You can still do the actual landscaping yourself.
Begin Planting
Once your plan is done, you can begin planting. Work your way out from your focal point, installing the largest elements first. This includes the trees and shrubs that will create a backdrop for the rest of your plants. To give your trees a healthy start, be sure to plant them properly.
Plant Trees and Shrubs
Dig a hole, but leave a mound of soil at the bottom for the tree to sit on. If you leave a ditch under the root ball, you may create an air pocket that will damage the tree. Place the root ball into the hole so its surface is slightly higher than the ground around it. Pack the dirt in tightly, and make a water ring around the trunk. This will help keep the roots moist without watering the tree every day.
Plant Border Areas
For a professional look, plantings along exterior walls and fences should be done in tiers. Place shrubs closest to the house, choosing a species that will remain lower than the windows. The outer layer should consist of flowers or colorful plants that are shorter than the shrubs. Interspersing small trees can keep border areas from looking monotonous.
Lay Sod
Sod is a backyard staple — it grows well in most sunny areas, including those with a gentle slope, and it provides the perfect setting for sports, picnics and other family activities. If you plan to have a sprinkler system, the installation should be finished before laying the sod. For best results, avoid planting sod in deep shade or on steep slopes of more than 45 degrees.
Beautify Shady Areas
Most types of grass grow poorly in deep shade, but that doesn't mean you have to use bare mulch under your trees. Many plants thrive with less than four hours of sunlight. To brighten up shady areas, avoid dark green foliage. Look for species with white or yellow variegated leaves, which will stand out among the shadows.
Source: www.hgtv.com
Share this Post