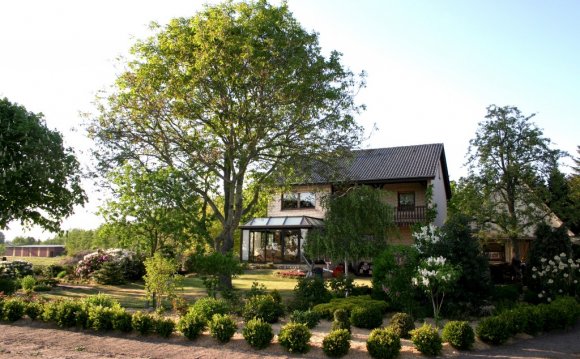 A beautiful pergola, softened with climbing vines, shades this southwestern patio. Next, the view from inside the patio. Design by HGTV fan scott10.
A pleasing mix of gardening styles: a splash of green turf next to a Xeriscaped area. In the back, a pueblo-style ladder leans against the wall. Design by HGTV fan scott10.
Before: A major landscape design will require a tight fit — the narrow backyard is only 20 feet from patio to wall.
After: HGTV fan DesignerDeb2 and her husband managed to fit a tropical paradise into their narrow backyard. The lap pool is 35 feet long and only 8 feet wide in places.
Before: The small patio could use some serious love.
After: The small patio has been expanded, resurfaced and transformed into a comfortable outdoor living space. Design by HGTV fan Donna1943.
Before: The yard is a blank slate.
After: Eleven years after the first plants were put in, HGTV fan Donna1943 and her husband enjoy a beautiful, mature backyard, with plenty of color and texture.
Before: Topography will determine the location of the patio in this Colorado backyard.
After: The 500-square-foot stone patio nestles on the hillside below the house. "On ... summer days the house provides shade by 6 pm for an enjoyable setting with golf entertainment below, " writes HGTV fan Mtn-Livin.
Before: Rampant plant growth, including wisteria, has taken over this back porch.
After: Taming the plants reveals a beautiful sitting porch that has a view of the new backyard. Design by HGTV fan leylaj.
A beautiful pergola extends the outdoor living space in this backyard that was designed by HGTV fan rm04.
Source: www.hgtv.com
Share this Post