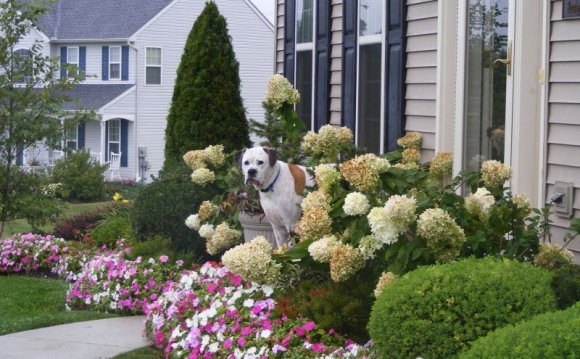 Roll out a blooming front yard welcome mat with the help of easy-care landscaping. Annuals, perennials, flowering shrubs, and color-rich trees create a lush landscape that sets the scene for a warm, inviting home year-round.
Get started transforming your front yard with these simple tips and techniques. Whether you choose to overhaul your entire front yard in one season or spread the work and investment over several seasons, thoughtful planning before you begin will yield results that last for decades.
1. Establish Order
Foster order by limiting the number of species of flowering plants, shrubs, and trees. Aim for no more than five to 10 species of perennials, three to five different shrubs, and one or two types of trees.
Although it is tempting to buy new plants when they catch your eye, resist the temptation when it comes to purchases for the front yard landscape. Fewer species will result in a landscape that holds together well instead of appearing to be several different small gardens dotting the yard. Plant like species in groups and repeat them throughout the garden.
2. Think Big
Plan for planting beds that are large enough to accommodate your desired mix of plants. Planting beds that span at least half of the width of the house is often a good bet. Also, sweeping beds that extend from the home to the sidewalk or roadway are a sure way to keep the planting bed in pleasing scale with the house. Anchored by a tree and filled with shrubs, these large beds need not be labor-intensive. In fact, you'll likely find that they require less maintenance than the lawn.
3. Make It Flow
Repeat plant forms and textures to unify plantings. Lead visitors to the front door by planting bold blooming perennials near the sidewalk or roadway. Repeat that planting along the entry walkway, about halfway between the roadway and the house, and then again near the house.
Source: www.bhg.com
Share this Post