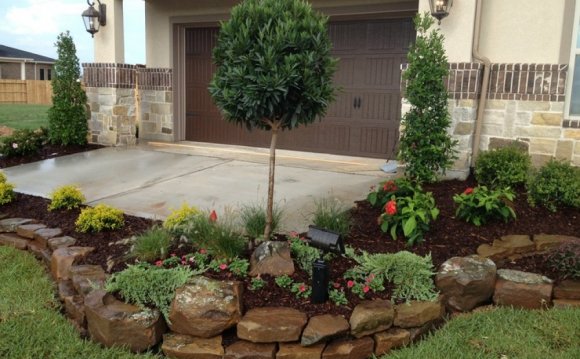 The Juneberry is a small, bushy tree covered in clusters of white flowers in spring. Young leaves go from silvery bronze in spring, to red in the fall. From June to July, the tree develops purple berries that make a tasty treat for birds. The Juneberry matures at 25- to 30-feet.
Japanese Maple
Japanese maples, Acer, are loved for their delicate leaves and spectacular fall color. Maturing at 6 to 10 feet, they are perfect for growing in pots.
Japanese Angelica
Japanese Angelica, Aralia elata, grows to 30 feet and shows off tiny clusters of cream-colored flowers throughout the summer. In late summer, black fruits appear that attract birds.
Eastern Redbud
The eastern redbud is a spreading tree with heart-shaped, dark purple leaves that turn yellow in the fall. Dwarf eastern redbuds, like 'Forest Pansy' (pictured), mature at just 15 feet, making them an excellent focal tree for small gardens.
Whitebeam
Whitebeam is a mid-sized, deciduous tree with silvery-gray young leaves and brown-speckled red berries that matures at 30 feet.
Loquat
Japanese loquat, Eriobotrya japonica, is an evergreen tree with long, heavily-veined, glossy leaves that reaches 20 to 30 feet. Fragrant white flowers appear in the fall, followed by clusters of citrus fruits in areas with mild winters.
Common Fig
Ficus carica can be recognized by its large green leaves and purple, edible fruits that appear in the fall. Averaging at a height of 10 feet, fig trees thrive in the heat and can be easily grown in large pots.
Strawberry Tree
The strawberry tree is a slow-growing evergreen tree with small, white flowers. In the fall it bears spherical, strawberry-like fruits that are edible, but make better snacks for the birds.
Rose of Sharon
Many gardeners may already be familiar with rose of Sharon, favored for its exotic blooms. Hibiscus syriacus is a deciduous shrub that typically grows from 10 to 15 feet, but its lower limbs can be pruned and trained to give it a more treelike appearance.
Purple Lily Magnolia
Lily magnolias—also known as tulip magnolia and red magnolia—are perfect as a focal point in the garden or as a patio planting for enjoying up close. They grow from 10 to 15 feet and produce showy, pink and purple flowers in early spring.
Cornelian Cherry Dogwood
The Cornelian cherry dogwood provides spectacular color all year. Maturing at 20 feet tall, Cornus mas produces golden flowers that appear on bare stems in early spring. Midsummer brings beautiful bright, red fruit that birds find irresistible. As fall enters, its leaves turn purple-red.
Judas Tree
In the spring, the Judas tree brings a mass of magenta-pink, pea-like flowers all over the bare branches. Cercis siliquastrum matures at 30 feet and bees love its bright flowers.
Hawthorn
Hawthorn are deciduous trees that grow to an average height and spread of 25 feet and feature clusters of flowers in pink, red and white. 'Paul's Scarlet Hawthorn' (pictured) comes to life in early May with clear, bright red double flowers followed by bright red fruits in the fall.
Flowering Crabapple
Crabapple trees put on a magnificent display of pink and white blossoms in spring. Small, edible apples follow the flowers, but are sour and best when made into jams and jellies.
'John Downie' Compact Crabapple
'John Downie' crabapple trees are attractive and heavy-cropping plants that produce some of the best yields for use in the kitchen. Their narrow canopy makes them a perfect small garden specimen.
Powderpuff
The powderpuff tree is actually a fast-growing, evergreen shrub perfect for hot climates. Trained as a tree, it grows from 10 to 15 feet and produces dainty red or pink flowers that look like pom poms.
'Autumnalis' Higan Cherry
'Autumnalis' higan cherry is a small deciduous tree of spreading habit, with ovate leaves turning yellow in autumn and pale pink, semi-double flowers opening in early spring with a second flush of flowers in the fall.
'Vossii' Golden Chain Tree
The golden chain tree is a deciduous shrub or small tree featuring long clusters of yellow flowers that hang from its branches in spring and early summer. The golden, pea-like flowers of 'Vossii' (pictured) look particularly striking when trained over an arch.
Crape Myrtle (Lagerstroemia indica)
Crape myrtle (Lagerstroemia indica) joins azaleas and magnolias as Southern staples. The small- to medium-sized tree, growing to 15 to 35 feet depending on the variety, comes in numerous cultivars, which feature flowers in lavender, pink, purple, red or white. The crape myrtles that bloom in mid to late summer are especially valuable for the landscape's "dog days, " but there are also some that bloom in early summer. The fast-growers are also prized for their beautiful, shedding bark during winter.
Citrus Trees
Potted lemon and other citrus trees grow well outside in the summer in a decorative container large enough to support their root growth. Make sure they stay watered and bring them indoors when the weather turns cooler.
Source: www.hgtv.com
Share this Post