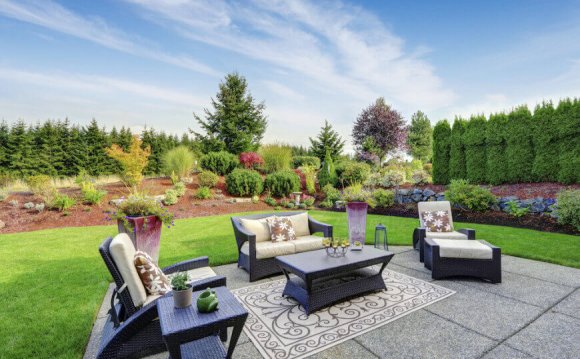 With golfers focusing heavily on putting to improve their golf game, chip and putt courses are popping up everywhere and thriving. A chip and putt course is a miniature course with par 3, par 4 and par 5 holes. Basically it is a miniature golf course without the windmills, castles, animals and other theatrics. The average putting course has undulations, rough hazards and dogleg angles. It completely mimics playing real golf, except all strokes are made with a putter.
The chip and putt course is less of a financial undertaking than regulation golf courses, which makes it the perfect option for anyone starting out in the golf industry. Of course, as with any business venture, there are important factors to consider. In order to set yourself up for optimal success, you'll need to keep expenses to a minimum, especially in the first few years. With a golf course, even a miniature one, two of the largest expenses are maintenance and liability. However, by investing in ProGreen's artificial putting green turf, you will be eliminating most all expenses related to maintenance, including watering, mowing, fertilizing, down-time and pesticides.
Synthetic putting green systems have made great strides in the past few years. ProGreen uses a very dense artificial fiber, mixed with our proprietary ProFlex infill. The appearance and playability are nearly indistinguishable from natural grass, even from 200 yards out.
To help make your putting course complete, be sure to include one of ProGreen's Tee-Turf mats at every hole. These mats are so unique that you can insert a tee anywhere on the surface. ProGreen Tee-Turf mats also allow the golfer to hit down and through the ball.
For putting green courses, maintenance costs are almost non-existent with artificial turf, which helps to increase your profit margin. Plus, liability insurance is much less because the golf balls are not getting airborne. Clearly, putting courses provide the least amount of financial risk when it comes to golf entrepreneurship.
Stimp Speed and Synthetic Putting Greens
ProGreen has taken the initiative to correct the negative reputation of artificial turf putting greens and the inconsistent stimp ratings.
Invented by Ed Stimpson, a Harvard grad and the 1935 Massachusetts Amateur champion, the Stimpmeter is the universal device used to measure the speed of putting greens by applying a known force to a golf ball and measuring the distance traveled in feet. This distance is the stimp rating, and it tells golfers how easily a golf ball will roll across a given green.
The current problem is that synthetic putting greens give inconsistent readings. There are two types of artificial turf putting greens: sand-filled and non-infill. When sand-filled synthetic putting greens are first installed, the Stimp rating is slow, about a 7 or 8 on the Stimpmeter. Over an extended period of time the ball roll often becomes too fast, between 11 and 13.
Non-infill artificial putting greens start at approximately a 10 when first installed, and go up dramatically from there. Both sand-filled and non-infill putting greens seem to have the problem of increasing stimp ratings, but why? Well, when first installed, the fibers are standing tall and firm. Over time, wear and tear causes them to lose some of their durability and they begin to fall under the pressure. The more the fibers begin to bend, the faster the ball will roll. So, as the years progress, the stimp ratings of artificial putting greens tend to increase.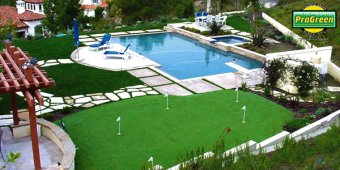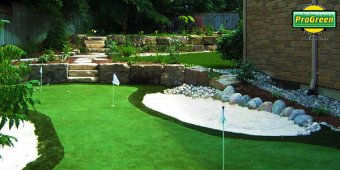 Source: www.progreen.com
Share this Post