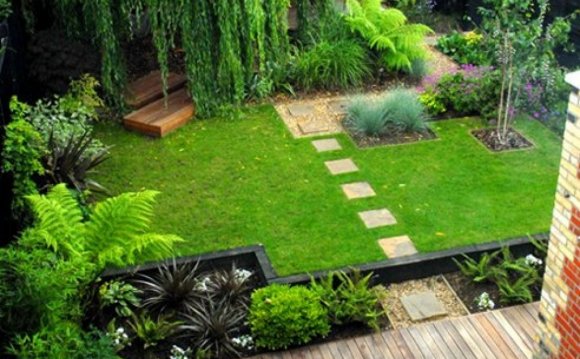 You don't need mega square footage to get growing — heck, a green thumb isn't even required. Just pick the perfect garden solution that suits your tiny space and skill level.
Check out these seven smart micro-gardening ideas for in and out of your home.
1. For the virgin gardener
If you've never gardened before (or never got the hang of it), here's an idea that allows you to eat what you reap.
The Capsule Pot is an all-in-one seed-germination kit that makes growing oregano, basil, thyme, or parsley a snap. To get started, just add water.
Each pot is a self-contained nursery that allows young plants to develop a healthy root system. Once your wee garden outgrows the container, simply transplant to a larger planter.
Watch the video below to see how easy-peasy this system is. Cost per plant: $7.95
2. Get on board with the vertical craze
We're sure you've seen Woolly Pockets before, but for those (like myself) who're a little squeamish about hanging fabric planters inside the house, those fears can be put to rest.
Woolly Pocket just introduced their reimagined Living Wall Planter, a hard container made from recycled, PBA-free plastic. This new living wall vertical pot promises to keep interior walls nice and dry, plus it's less messy to water than their original soft planter.
FYI, you can use this container outside too. The item should be available for sale in early October. Cost: $26.99.
3. The ultimate indoor edible garden
Here's an indoor growing machine that allows users to harvest fresh greens all year round.
The Urban Cultivator is a locavore's dream. No worries if you've a brown thumb — this hydroponics appliance is programmed to handle all aspects of gardening, including watering.
It's designed to blend into your kitchen as a dishwasher-style built-in or a standalone countertop.
Prices for consumer models start at $2, 000. Watch the video below to learn more about this green gizmo.
4. A sizzling outdoor garden idea
If you think you must choose between a garden or grill, read on.
FYI, it's not terra-cotta — this baby is made from stainless steel and has a heat-insulated ceramic coating. Regular price is $124 but you can snatch one up for almost half off at the MoMA Design Store.
5. A teensy glass house
IKEA's SOCKER mini greenhouse is a great solution for those with some growing experience. Its compact measurements (about 18-by-14-by-9 inches) make it a cinch to fit in a tight space.
Just like a big greenhouse, it provides plants and seedlings with an insulated environment so they can thrive. We like the adjustable roof vents that allow you to easily reach plants, and control temperature and air circulation. The best part: It costs $19.99.
6. A double-duty planter
The Fluidity dish rack is a neat idea that uses clean water from drying dishes to irrigate a tiny garden. No worries about the rack getting all muddy: This garden has clay pellets and coconut fibers instead of soil.
How would you feel about using your clean wet dishes to water your plants? Is this little idea worth ditching your dishwasher?
7. A windowsill garden with extra legroom
Here's an idea that allows you to create a garden that extends outside your window.
The Volet Végétal, which translates as "plant shutter, " is a homemade device that triples the amount of windowsill space you currently have. It creates a small outdoor balcony by operating like a drawbridge.
The French design firm Barreay & Charbonnet conceived this great green idea, but it has yet to go into production.
Source: www.houselogic.com
Share this Post