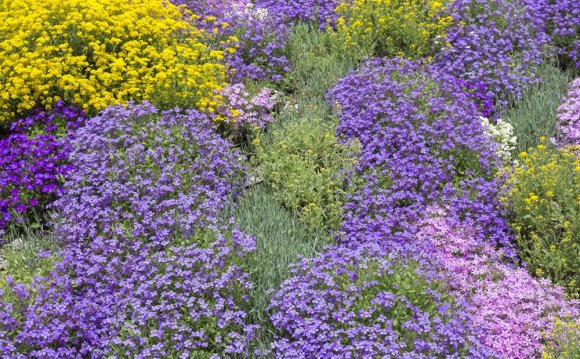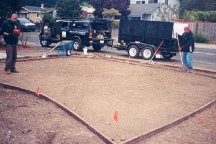 Curious about native plants? Interested in a beautiful, low-maintenance landscape? Concerned about health and water quality? Or did you just stumble on to this page by accident?
Regardless, we welcome you and hope we can satisfy or pique your curiosity. In the pages that follow, we will introduce some basic Concepts of landscaping with native plants, referred to by many as "naturescaping, " and follow that with Steps you can take to get started. Note that we will use the phrases "naturescaping" and "landscaping with native plants" interchangeably. You may also be familiar with the phrase "xeriscaping" which refers to landscaping with drought resistant plants, though not necessarily native plants.
In the Concepts below, we will discuss:
This is followed by the Steps, which are in turn followed by Designing for Wildlife, Special Considerations (new home, hedges, bio-swales, etc.) and some Examples. ... Ready? Here we go!
CONCEPTS
Relearning Landscaping
There is an element of "relearning" involved in naturescaping because throughout most of our lives we have been taught the opposite. We have been taught to remove native plants (often viewed as "weeds") and to replace them with plants that are common in the nursery industry - plants that we will refer to as "industrial plants." The industrial include the standard ornamental shrubs and perennials and are promoted based on the function they provide (hedge, groundcover, etc.) and/or the aesthetic they exhibit, yet not for ecological reasons. They are mass produced and distributed widely, the same way consumer goods are mass produced and distributed. As a result, landscapes, whether residential or commercial, typically have the same plants and the same appearance, regardless of where located - Maine, Texas, Oregon or some place in between?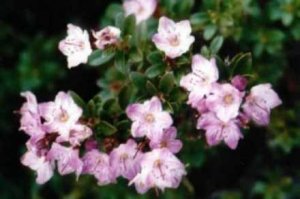 We have been taught through gardening magazines, radio and television programs, newspaper features and nursery advertising that the industrial plants are the plants to use and that if a place (soil, climate, etc.) does not support them, then we should change the place: remove existing soil, bring in new soil, add irrigation, top dress with an ornamental mulch, and use pesticides and fertilizers as needed. The result is a rather sterile landscape that looks the same regardless of where you live. It is also a landscape that unfortunately does not support our bird or benificial insect populations.
Maine? Texas? Oregon?
We have also been taught to have a "weed" free lawn, to decrease biodiversity and to maintain our landscape through regular cuttings and the application of synthetic chemicals. It is interesting to note that radio gardening programs and other landscape "experts" often suggests a chemical solution to landscape "problems." This practice is driven by advertisers who sell these products. Fortunately, there in an emerging shift towards organic yard care and many good groups are involved in the effort (including some master gardening programs), but there is a long way to go.
Thus, as we approach naturescaping, we have to purge a lot of the landscaping notions with which we grew up and be open to new ones. Some of those new ones are: selecting the plant that goes with the place and not changing the place for the plant; recognizing that we do not NEED all the lawn we have; and realizing that native plants take care of themselves because they evolved to grow in the place you want to plant them. Thus, we can let go of some of the old notions and rely more on practical or "common" sense.
Traditional Landscaping v. Naturescaping
Traditional landscaping attempts to create a landscape that "looks" the same regardless of location. This is, in part, pushed by nurseries or developers who want to sell the same plant or product across wide markets, maximizing revenue through efficiencies of scale. It is also driven by landscape designers and contractors who tend to use the same palette of plants regardless of location. This is particularly true of designers and contractors who move during their career. It may be seen as easier to change the site rather than learn which plants grow their naturally and how to install them.
Lastly, it is driven by homeowners and property managers who grew up learning one set of plants and understandably using those plants as a frame of reference as they move about the country. These and other forces have created an atmosphere that emphasizes using the same plants regardless of location and changing a site to accommodate these plants. As noted above, site changing often entails installing irrigation, removing the existing soil, bringing in new soil or a soil amendment, installing weed barrier, and applying synthetic chemicals. Plants are often planted in geometric patterns and maintained in a "static" look with frequent cutting or trimming. This is traditional landscaping.
Land Change Brigade - on the charge!
Naturescaping, in contrast, emphasizes selecting the plant that grows naturally at the site. Since native plants evolved to grow under local conditions, they do not require that the site be changed. They do not need the life support of watering (except during establishment) or regular synthetic chemicals - they do not require fertilizer beyond that provided naturally and they are not prone to the diseases of many industrial plants.
Thus, in quick comparison, it can be said that traditional landscaping changes the place to accommodate the plant and naturescaping selects the plant that goes naturally with the place. Since we have been programmed for the former, it takes new thinking and perhaps some courage to consider the latter, though let us assure you that the latter is very rewarding ... beautiful in its own way, wondrous in the critters it attracts, healthier for the homeowner and larger environment and, once established, easier and less expensive to maintain.
Kalmia - A Native
Down Side?
Naturescaping sounds good, eh? Where do I sign up? ... Well, for your due diligence and our full disclosure, it is important to mention some of the challenges that one may face.
Twins v. Sibs
Most industrial plants are asexually propagated, i.e., grown from cuttings, etc., and, therefore, have identical genetic material. They will have similar shapes and height, the same way that to two identical human twins will grow in the same manner. If you see one, you could pick the other out of a police line-up (i.e., you have a good idea what the other will look like).
Native plants, however, are like siblings, they are often sexually propogated and hence, their DNA, while similar, is not identical. Like siblings in a family, some may be tall, others short, some red-headed, some blue-eyed, etc. In other words, native plants possess greater genetic diversity and, as a result, less predictability of shape and size. Some people consider this a benefit that adds to a natural look and to the excitement and wonder of seeing how a plant will look as it matures. Others, however, may consider...
Source: www.plantnative.org
Share this Post