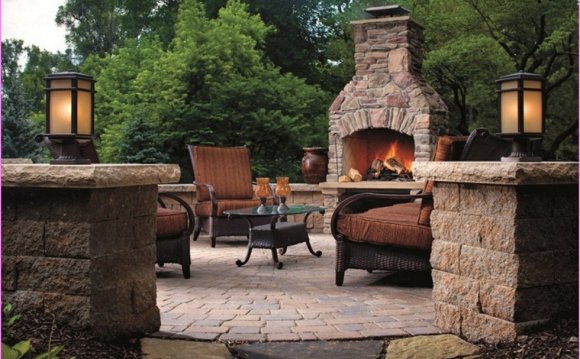 Chris and Peyton: Bachelor and Bachelorette, Retired
Let's just say Chris Lambton leads an interesting life. Some might call it charmed. For starters, he was runner-up on the ABC hit series The Bachelorette. Professionally, he gets to pursue his passion as the owner of his own landscaping business in his hometown of Cape Cod, Mass. Then in a romantic turn that Hollywood could scarcely have dreamed up, Chris married Peyton Wright, a former contestant on ABC's The Bachelor. Now, as host of HGTV's Going Yard, Chris transforms plain, drab backyards into spectacular, family-friendly outdoor spaces — with Peyton there to lend a hand. Check out some of Chris and Peyton's handiwork in these exclusive before-and-after and behind-the-scenes photos.
Space for Dining Alfresco
New outdoor furniture and a colorful table setting await guests in one of the backyards newly made over by landscape professional Chris Lambton and the Going Yard crew.
Aquatic Appeal
A decorative water feature can make for a pleasing focal point for a deck, patio or garden. This one, surrounded by flowers and foliage, provides a strong visual accent as well as a pleasing sound.
Formulating a Strategy
Chris and Peyton meet with homeowners Tony and Kellie Oliveira to discuss the plans for their new backyard. The design calls for the removal of a damaged deck – replacing it with a new upper and lower deck – and the addition of a brick patio, outdoor fireplace, pergola, privacy fence, new plantings and a play area for the Oliveiras' year-old son, Brycen.
Blank Slate
With an old, dilapidated deck removed and debris cleared away, Chris considers the possibilities for this backyard space.
Before
Prior to the redesign, the backyard looked as if disaster had struck. The deck was in disrepair and actually falling away from the house, and the yard was littered with building materials left over from an earlier indoor repair project.
After
A striking two-level deck replaces the old damaged one and opens up a completely new seating and dining area.
The backyard was barren and encroached by weeds and brush. A metal 55-gallon drum cut in half and a lone tiki torch was the closest thing this yard had to a fire pit.
A new brick patio and outdoor fireplace changes the whole look and feel of the yard, creating a truly inviting space for relaxation and entertaining.
With the deck lacking ample support, this space had become essentially unsafe and unusable.
The lower seating area, overlooking the new playspace, is supported underneath by sturdy concrete footings, topped with fresh cedar decking and highlighted with matching wood planters.
The backyard was lacking any real lawn and was sadly deficient in seating or other comforts.
The newly transformed yard has an actual lawn and beds, and offers a variety of gathering spaces. The new brick patio is laid over a layer of compressed stone dust, which adds stability and, in colder climates, helps prevent patio damage or buckling due to freezing soil. Mulched beds and plantings of well-chosen annuals help soften the lines of the deck and patio.
Satisfaction
With the project complete, homeowners Tony and Kellie take a moment to celebrate their newly remade backyard with Chris and Peyton.
Out With the Old
For the yard makeover at the home of El and Sharon Sanders, a first step is the removal of an old, broken down carport. Chris Lambton fires up the power tools to get the demo underway.
Measure Twice and Cut Once
Peyton assists Chris with some of the detail work on the wood storage bins that will be built-in components of a new deck.
The long neglected backyard was badly overgrown with weeds and cluttered with unsightly tarps and storage bins.
Chris Lambton and crew turned this space around with new exterior paint, low-profile deck, wood storage bins and low maintenance plants.
A deteriorating carport and lean-to shed with sagging tin roof were among the structural elements that would have to go.
The back corner of the yard where the carport once stood gets dressed up with a new outdoor dining space, area rug and fabric shade sail.
Bare cinderblock, broken lattice and invasive weeds were the dominant features along the yard's rear perimeter.
Source: www.hgtv.com
Share this Post