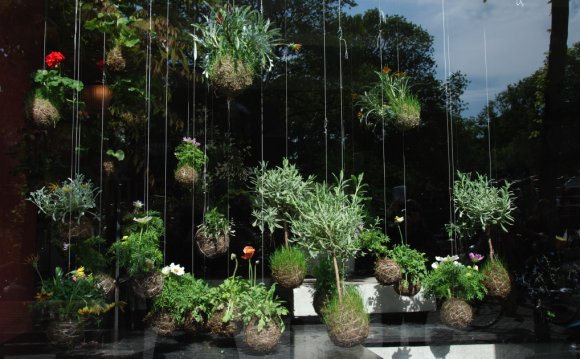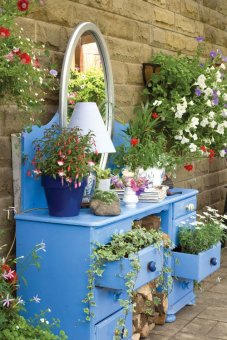 Add interest to your garden with ideas that repurpose old things and make them new again.
Where to start? Just take a look around to see what you can find that may have a second life as a unique garden addition. You may not even need to buy anything if you rethink some objects that are in your attic or garage. The only limitation to your garden transformation is your imagination!
An old painted dresser gets a new life as a multilevel planter, while adding a sense of fun. Open drawers hold plantings and bring the eye upward to hanging wall baskets. A bold color, such as blue, adds a cool, contemporary feeling. (Photo: Fiona Lea/GAP Photos)
Vintage food cans with the lids removed make interesting herb planters. The variety of the foliage, as well as the designs on the cans, adds visual interest. A single container is charming, but several grouped together create a strong focal point. Place the containers outside your kitchen for an easy-to-reach herb garden. (Photo: Friedrich Strauss/GAP Photos)
Most of us have more opportunity to enjoy our gardens while home in the evening. By adding lights, you can transform a garden into a sanctuary. Here, tea lights inside old mason jars are hung by string (or wire). (Photo: Lynne Keddie/GAP Photos)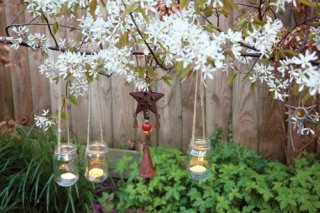 Old painted birdhouses provide a refuge for your garden's feathered visitors but also do double duty as a support for a hanging basket of colorful petunias. (Photo: Kim Beckmann)
Melissa Will from Ontario creates inspirational garden art using repurposed objects. Her favorite garden art projects are her chandeliers. Using lamp crystals that she found at a thrift store, Will fashioned some homemade bling for her garden by attaching the crystals and blue glass beads to an old metal colander. She keeps the chandeliers in the garden year-round to watch the winter sunlight sparker through the crystals. (Photo courtesy Melissa Will)
All these ideas come the 2012 Almanac Garden Guide. Find more affordable ideas in expert advice in this year's .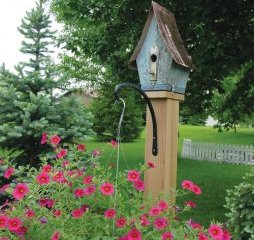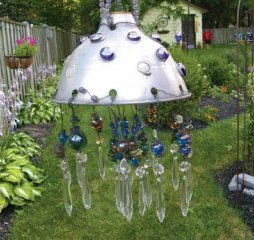 Source: www.almanac.com
Share this Post