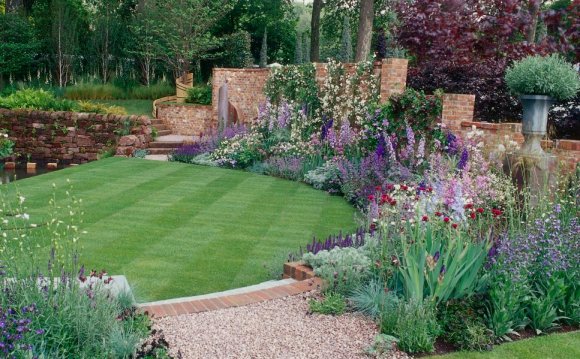 When Willi Galloway and her husband, Jon, moved into their first house, she didn't dream about redoing it. Instead, the cooking-obsessed Willi fantasized about a veggie garden.
So one Saturday, Jon dug up a 200-square-foot patch of yard ― "There's nothing more romantic than watching your husband tear out lawn for your garden, " says Willi ― and the couple borrowed a neighbor's "super-burly tiller" to loosen the soil.
Two weeks later, Jon built five raised beds. Willi planted the crops she loves, including basil for making her grandma's pesto recipe, and butternut squash that she cubes, grills, and blends with spicy black beans to fill vegan squash tacos. Now she marvels at all the vegetables. "Growing and cooking food is a fundamental human experience, " she says.
TIPS FOR A GOURMET GARDEN
Install raised beds Easy to tend, they're a key to success because they're filled with loose, well-amended soil. Willi used cedar planks left over from a fence-removal project to create raised beds. The perfect raised bed
Double up To keep your cupboard full, try underplanting. Willi tucks salad greens beneath pepper plants and edges her beds with flat-leaf parsley.
Go with greens Baby greens grow and produce quickly ― just one month after planting. When harvesting, leave inch-tall stubs and you'll get two or more rounds. Seeds to go for: California Spicy Salad mix and baby mesclun from Renee's Garden.
Try unusual varieties Shop seed catalogs for new varieties. Among Willi's discoveries are 'Nero di Toscana' kale ― "I slice the deep green, rumpled leaves into ribbons, sauté them, and add to whole-grain salads"; 'Chioggia' beet, a classic Italian heirloom; and 'Santo' cilantro, a variety that's bolt-resistant.
Problem-solver Proper spacing. "I planted my crops a little too close together that first year, " Willi says; the tomatoes got late blight. "Now I give them the space they need." How to plant a veggie garden – Kathleen Brenzel
Next: The city farmer shows how to garden in pots
You might say that Justin Wiener is an accidental gardener. While clearing 4-foot-tall weeds from a small yard behind his San Francisco apartment, the multimedia specialist discovered a 5- by 12-foot concrete pad.
While some might have torn out the pad and used the space to grow flowers or, with proper neglect, even more weeds, Wiener had a different idea: to harvest veggies fresher than those offered by his CSA (community-supported agriculture) membership. So he planted seedlings of veggies and herbs in pots ― a mobile solution for a city dweller.
"I started with a few plants the first weekend, and each weekend I would acquire a few more, " he explains. The collection took on a life of its own. Potted herbs, peppers, tomatoes, and squash fill almost every available spot, with just enough space left over for an alfresco situation: a cafe table, a chair, and a lantern. And, of course, produce fresh off the vine.
TIPS FOR VEGGIES IN POTS
Use the right pots Select pots at least a foot in diameter for growing herbs. For larger crops, use pots at least 16 inches wide and deep, and preferably larger, so roots have room to spread. Wiener shopped yard sales to get a large collection of pots for little money. Use fresh potting soil every year.
Grow vertically To keep tomatoes from sprawling, Wiener trains them on bamboo spiral stakes. Strawberries dangle from a wire basket that hangs on the fence. Video: How to stake a tomato.
Choose easy crops Cherry tomatoes are among the easiest tomatoes to grow and are prolific producers. Herbs such as basil, rosemary, and thyme are other foolproof crops.
Harvest regularly Instead of admiring your crops laden with fruit, pick regularly to promote new growth. Snip herbs and dry for later use by bunching them with rubber bands, then hanging indoors.
Problem-solver To maximize sun exposure ― an issue especially in fog-prone San Francisco ― Wiener raises his containers on tables and moves them around as needed. – Julie Chai
Next: The guru
One look at Rosalind Creasy's garden, and you know the garden designer and cookbook author will never go hungry. Nearly 60 kinds of fruit, vegetables, and herbs fill the beds, borders, and pots in her front yard alone, and vibrant color comes not from blooms but from crimson tomatoes, purple artichokes, and blueberries.
Source: www.sunset.com
Share this Post