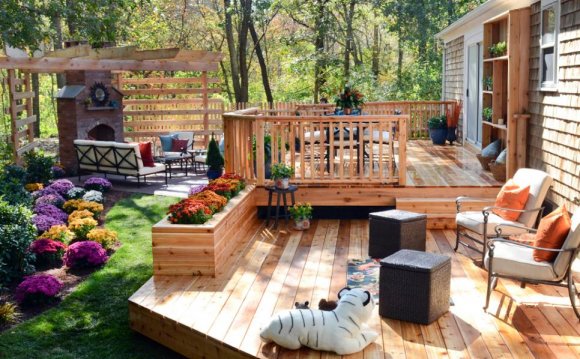 In California, where summer never ends, it's all about outdoor living. Tarek and Christina focused their attentions on this neglected Torrance home's backyard, and the results are California gold.
BEFORE: The Front Yard
Despite the five-bedroom house's complete lack of curb appeal, Tarek and Christina saw an opportunity for a million-dollar flip.
BEFORE: Bird's Eye View
The house backed up against a sloping hill that proved challenging in creating an outdoor space that didn't feel cramped or confining.
BEFORE: The Back
The only eye-catching thing about the back of this home was the amount of dirt that covered it.
BEFORE: The Backyard
The outdoor space wouldn't allow room for a pool, so Tarek and Christina had to come with other ideas to turn this backyard disaster into a California gold.
AFTER: The Front Yard
A fresh paint job, new front and garage doors and extensive landscaping give this home by the beach the curb appeal it desperately needed.
AFTER: Bird's Eye View
Yes, your eyes do spy a new retaining wall along the hillside ... and a pergola!
AFTER: The Backyard
The pergola feature ties the extensively renovated house and backyard - which Tarek and Christina invested the most money into for this project - together.
AFTER: Seating Area
New pavers and a netural pergola help the new backyard feel much more spacious and inviting for outdoor entertaining.
AFTER: The Spa
In lieu of a pool, Tarek and Christina designed this modern, oversized spa with an accent fountain wall and fire pit right next to the water.
AFTER: Outdoor Dining
The seating area is in the middle of everything the backyard has to offer, with solid sight lines to the spa and the house.
AFTER: The Barbecue
The custom outdoor kitchen and barbecue area is especially handy for entertaining guests or just enjoying a quiet dinner outside on those gorgeous California evenings.
AFTER: The Putting Green
As an added bonus, Tarek and Christina installed a putting green on the side of the house for a unique feature home buyers will be hard-pressed to find on this block.
Source: www.hgtv.com
Share this Post